Vendor Managed Inventory
---
Dordan Manufacturing offers vendor managed inventory to those customers with multiple, high-volume thermoform SKUs and fluctuating need by dates and quantities.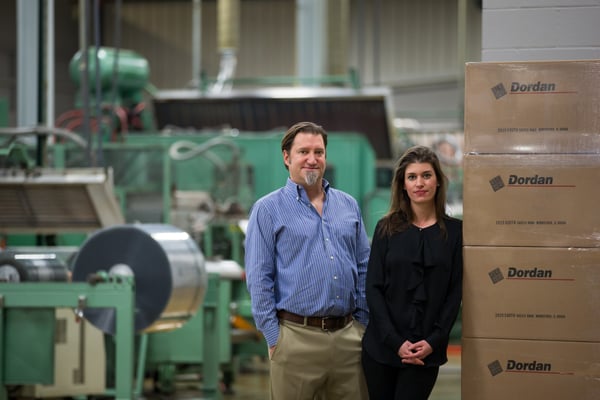 Owners & brother and sister, Aric and Chandler Slavin
Vendor Managed Inventory is when Dordan manages the production, inventory, warehousing, and shipping of it's customers' thermoformed packaging. Through an understanding of it's customers' annual thermoformed part consumption, a min-max program is established where Dordan commits to keeping a ready-to-ship inventory on hand at all times. At its customers' request, Dordan releases different quantities, which can be shipped same day. In this just-in-time scenario, the only lead time is the amount of time it takes for the customer to receive the product. Risk is mitigated for both the customer and Dordan, as Dordan takes full responsibility for managing production and inventory such that the customer is never without parts or assurance of supply.
Additional Services:
Preferred partnerships with material suppliers: With 60-years experience providing thermoformed products and packaging, we have developed strategic partnerships with key suppliers; this allows us to ensure exceptional product quality at competitive costs.

Vertically integrated manufacturing: By having all package design, tooling, and production onsite under one roof, Dordan offers greater scheduling flexibility and shorter lead times, increased quality and competitive pricing.

Real-time scheduling: Dordan's transparent scheduling grants our clients access to information about the status of their job: Run quantities, production rates, and projected estimated delivery dates provide our clients with the information they need to ensure the successful manufacture and delivery of their product.

Shipping management: In order to ensure our clients' timelines are met, we offer a variety of shipping management services. These include "just-in-time" delivery, drop ship, full product tracking, and bar code capabilities.

Dordan offers batch releases, which means that we run bulk quantity orders, inventory, and ship a fraction of the stock at predetermined dates. This allows our customers to achieve lower part pricing due to bulk quantity runs regardless of how much product is needed throughout the year.