Automatic Assembly Trays
---
Optimize cycle time, reduce waste, and improve QC with assembly trays from Dordan.
Thermoformed assembly trays are used with automated equipment to protect and transport products and components throughout workstations or facilities. Pick and place, or other robotic mechanisms, load and unload parts from the assembly trays, facilitating operational efficiency gains and superior quality control.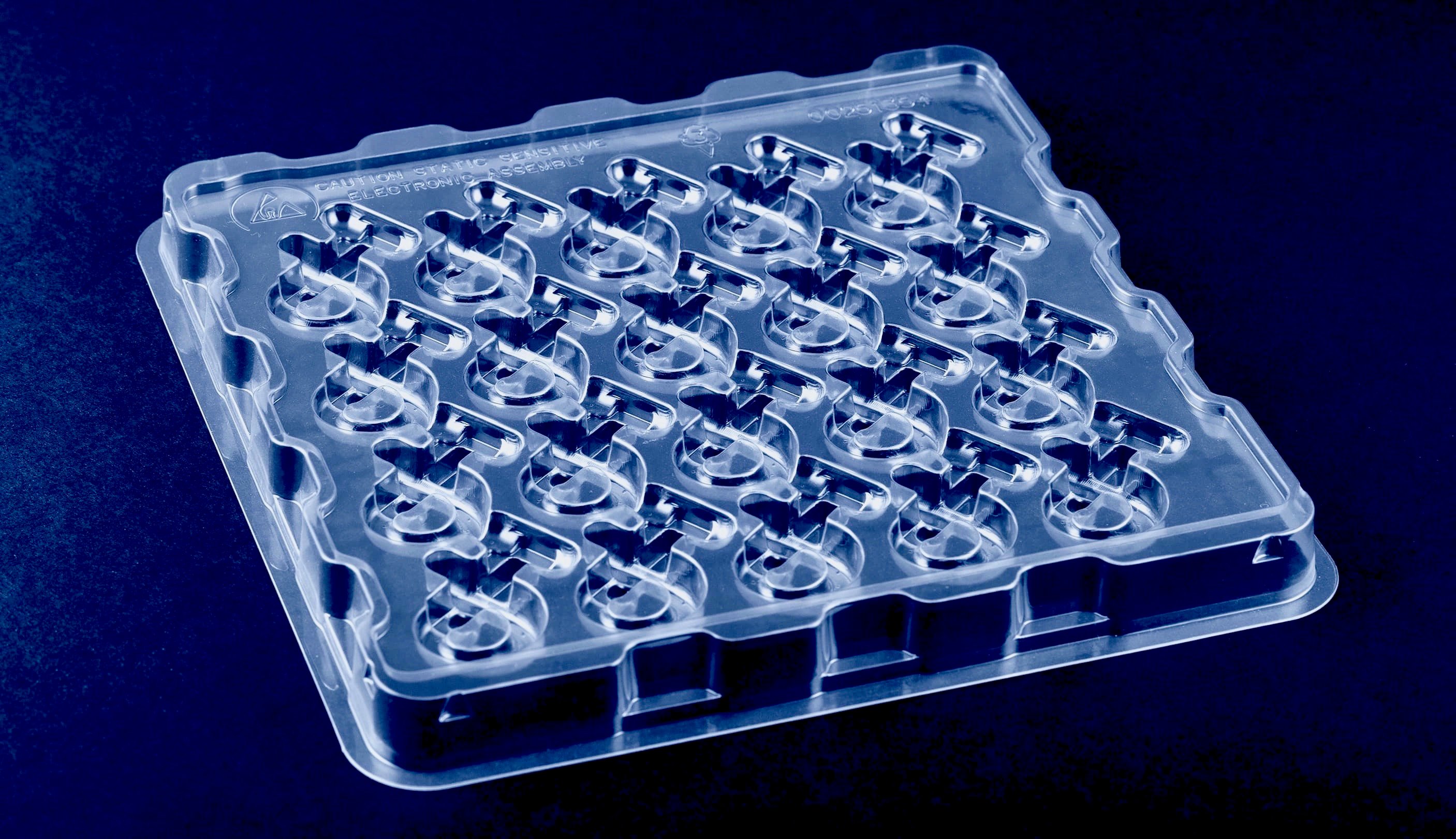 Thoughtfully engineered with a full understanding of the automation process, Dordan manufactures consistently high quality thermoformed assembly trays that integrate with existing, or in development, robotic platforms.
Assembly Tray Features



---
Protect, organize and orient products for automated parts assembly with theroformed assembly trays from Dordan.
Versatility of plastic and thermoforming process allows for the production of compact designs that accommodate the ideal number of parts per tray to meet shipping and assembly cycle-time goals.

Available materials for thin gauge assembly trays range in thickness from .020"-.120". Popular materials include RPET (clear) and RHIPS (black). ABS and low-moleculare-weight talc-filled PP are preferred for returnable trays.

Thermoformed assembly trays nest during shipment, saving on freight. At the same time, they denest easily for entry into the assembly cell via design features that mate with the equipment denesting mechanism.

Assembly trays can also be developed for shipping, utilizing stack and rotate features to create clearance between the products and tray above when stacked. This offers enhanced product protection during shipping and handling.

Trays for automation are designed with locators that assist the robot in locating the tray and locating the product in the tray cavities. Determining the design and placement of the locators on the tray is critical to the success of the automatic parts assembly operation.

Dordan's assembly trays are manufactured in America from recycled plastics. They can also be designed for reusability.

ESD assembly trays (electro-static discharge) protect sensitive electronics and components from electric charge during the material handling process.