Sustainability
---
Dordan's Sustainability Coordinator, Chandler Slavin, is an expert in the field of sustainable packaging. The former co-lead of the PET subcommittee for Walmart Canada, Slavin helped facilitate the inclusion of thermoformed packaging in the recycling infrastructure in North America. Publishing three reports from 2010-2015, Slavin has been awarded the cover features of Green Manufacturer and Plastics Technology Magazines for her efforts to recycle clamshell packaging. Slavin is a contributing writer to Packaging Digest on sustainable packaging, a sustainable packaging researcher, and manages all of Dordan's sustainability initiatives.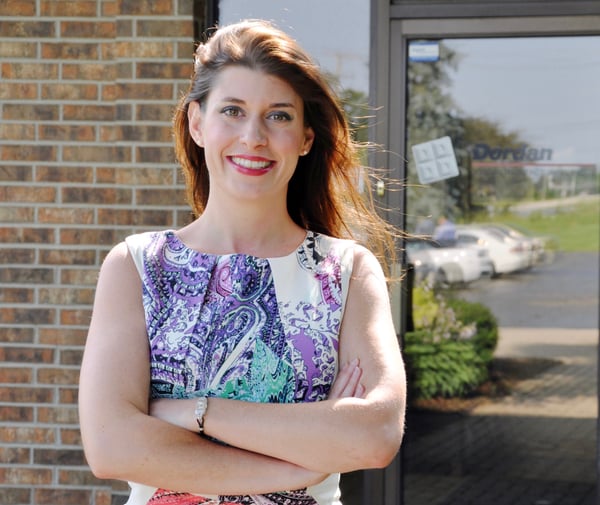 Above photo: Dordan's Sustainability Coordinator, Chandler Slavin
Sustainable Packaging Tools:
Dordan subscribed to a packaging life cycle modeling tool, which allowed us to quantify the environmental impacts of different packaging types in the design phase. Slavin is well versed in the available tools for assessing sustainable packaging, and helps its clients achieve more sustainable packaging that aligns with their business strategy.


Dordan developed a Bio Resin Show N Tell, which was an overview of the available bio-based, biodegradable, compostable, and otherwise "green" plastics on the market.
Packaging Digest Sustainable Packaging Articles
Dordan Sustainability Initiatives:
Dordan is working towards zero-waste to landfill and energy reduction programs.

All plastic scrap is ground onsite and returned to the plastics supplier, which re-extrudes the plastic flake into post-industrial plastic, thereby closing the loop;

All aluminum scrap from our tool and die shop is collected and recycled;

All material cores are collected and recycled;

All skids are made from recycled material and are collected for recycling;

Dordan has replaced all of the lights in the facility with high-efficiency LEDs, reducing its electrical consumption;