Thermoform Prototyping
---
Thermoform prototypes are intended to demonstrate part form, fit, and function. NX CAM/CNC produced out of aircraft-quality aluminum, all prototypes are a 1-up mold of the multiple-up thermoform tooling. Developed by the same team of packaging engineers that develop the Solid Model NX thermoform design, all prototypes are machined in house via 2019 VF Series Haas CNC machining centers.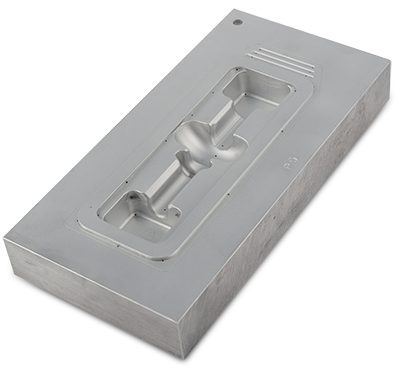 Thermoform prototype tool
Upon prototype approval, the proved out tool-paths are replicated for machining the production tooling (step and repeat). This eliminates the potential for translation errors between the Solid Model NX thermoform design, thermoform prototype, and production tooling.
This integration between softwares and machining technologies allows for more intelligent quality control as potential production issues aren't the result of inconsistencies between the thermoform part design and tooling.
Prototyping is included in the cost of Dordan's thermoform tooling as it is a required step in the thermoform development process; it includes 6-8 thermoformed samples that are sent to the client to assess part performance. Should the prototypes not perform as intended, they will be revised accordingly at no charge to the client.