Custom Thermoformed Trays
---
Designers and thermoformers of custom plastic trays since 1962.
Custom thermoformed plastic trays provide retail and OEM packaging solutions: Plastic insert trays protect, orient, and display retail products; dunnage trays facilitate shipping, assembly, and manufacturing efficiencies; and medical device trays maintain the safety and sterility of medical products.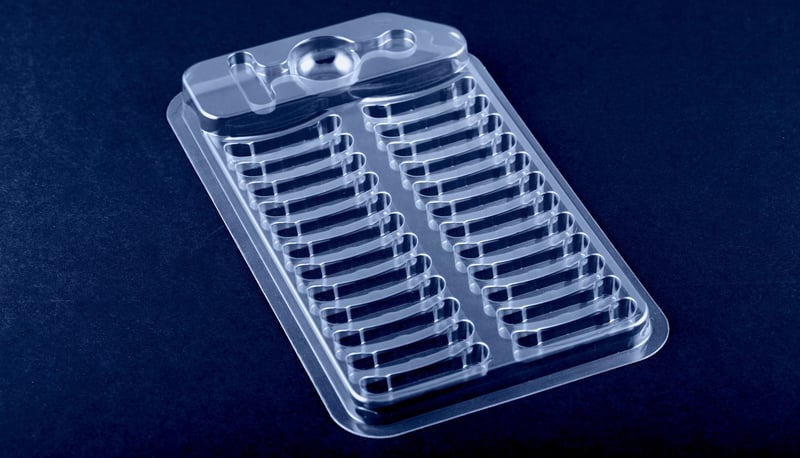 Thermoformed Tray Benefits
---
Protect your product with thermoformed plastic trays.
Thermoform Tray Design & Manufacturing
---
ISO certified custom plastic tray engineering, tooling, and thermoforming.
Dordan is a full service thermoform tray supplier with in-house package design, tooling, manufacturing, and cleanroom thermoforming.


The same team of engineers that develop the Solid Model NX tray design also produce the NX CAD/CNC machined aluminum tooling; this integration between design and tooling results in the production of high-performing thermoformed tray packaging in quick turnaround at competitive pricing.

Dordan has 12 thin-gauge, inline plastics thermoforming machines for manufacturing plastic tray packaging. Dordan's thermoformers are fitted with robotics and custom end-of-arm tooling, automatically stripping formed trays for manufacturing efficiency.

Dordan's ISO 9001:2015 quality management system informs the entire thermoform tray development and production process: Diligent and transparent documentation with robust and comprehensive quality control procedures facilitate continuous process improvements for the thermoformed tray packaging that Dordan produces.