Thermoformed Medical Device Trays
---
ISO Class 8 Cleanroom medical packaging thermoforming
Thermoformed packaging trays for medical devices offer product production and maintain device safety and sterility. Produced in Dordan's fully enclosed and complete hardwall construction ISO Class 8 Cleanroom, sterile and non-sterile thermoformed medical device trays are the premier packaging solution for medical device manufacturers and their supply chain partners.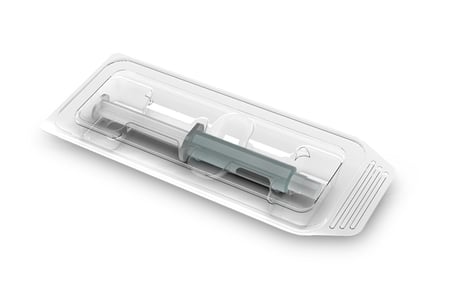 Heat-sealed to Tyvek or other substrate lidding prior to sterilization, medical device packaging trays maintain product sterility to the point of practitioner use. With intuitive design features, thermoformed medical device trays are easy to open and cater to the needs of the practitioner. Medical devices are kept secure in thermoformed tray packaging after loading and/or kitting, reducing the likelihood of damage, and ensuring the safety and effectiveness of the device.
Medical grade materials for medical device packaging trays comply with all FDA regulations and requirements for materials that interact with products intended for patient contact. Paired with the appropriate lidding, sealing, and sterility processes, thermoformed medical device trays are a popular packaging solution for for FDA Class I, II, and III medical devices.
Dordan is an engineering-centric, medical device tray packaging designer and manufacturer, offering full service medical tray design, tooling, and cleanroom thermoforming in house. ISO 9001:2015 certified, Dordan provides process validation procedures (IQ/OQ/PQ) to verify that the thermoforming process produces medical tray packaging that meets our customers' performance, cleanliness, and quality requirements. Routine QC inspections monitor, measure, chart, and analyze the medical thermoforming process, defining the CPK as the benchmark against which future runs are managed.
Dordan's 2019 Cleanroom is equipped with 2019 Kiefel Speedformers with best-in-class automated forming, cutting, and stripping stations for thermoforming sterile and non-sterile medical device tray packaging.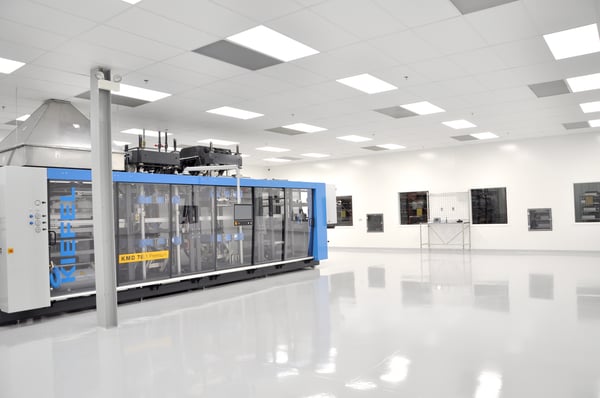 Above photo: Dordan's ISO Class 8 Cleanroom for thermoforming medical device trays