Custom Thermoformed Medical Packaging
---
ISO Class 8 cleanroom for manufacturing medical packaging solutions.
Thermoformed medical packaging, like medical device trays, medical component shipping/dunnage trays, and surgical kits, clamshells, and containers, offer product protection, facilitate procedural efficiencies, and maintain the safety and effectiveness of medical devices and products.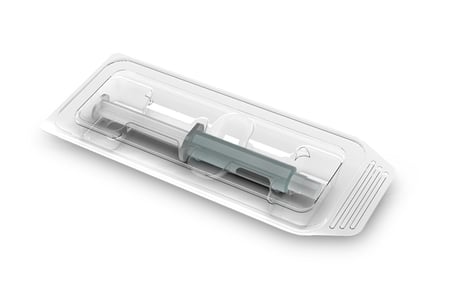 Produced in Dordan's in house ISO Class 8 Cleanroom, Dordan's medical packaging utilizes six-decades of custom thermoform design and manufacturing excellence. Dordan is ISO 9001:2015 certified for the design, manufacture, and distribution of custom thermoformed products and packaging.
All medical packaging thermoforming is done in a fully enclosed and complete hardwall construction ISO Class 8 Cleanroom. Fitted with 2019 Keifel Speedformers that utilize best-in-class automated forming, cutting, and stripping stations, Dordan's medical packaging solutions are designed to meet the quality, safety, and performance requirements of its customers.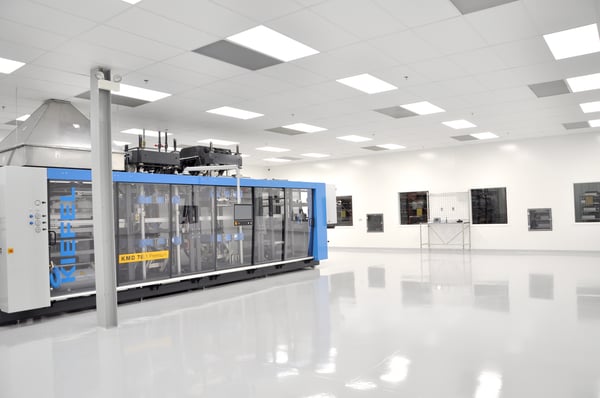 Above photo: Dordan's cleanroom for thermoforming medical packaging

Thermoformed Medical Packaging Solutions:
Medical device trays, with Tyvek or other substrate lidding, protect medical devices and maintain product safety and sterility.

Surgical kits protect, organize, orient, and aid practitioners in procedural, surgical, and diagnostic operations. Surgical kits maintain surgical instruments cleanliness and safety.

Medical clamshells for medical instruments, devices, syringes, and injectionables, protect and maintain product safety and cleanliness.

Medical dunnage trays for medical device assembly, work-in-process, and shipping processes offer manufacturing and supply chain efficiencies.

Medical blisters protect and maintain the cleanliness and safety of pharmaceutical products.

Medical thermoformed components meet specific functional requirements pertaining to device and/or component assembly, work-in-process, distribution, and/or use.