Medical Packaging
---
ISO Class 8 Cleanroom thermoforming for the production of medical packaging solutions.
Thermoformed medical packaging offers device protection, maintains safety and cleanliness, and facilitates procedural efficiencies.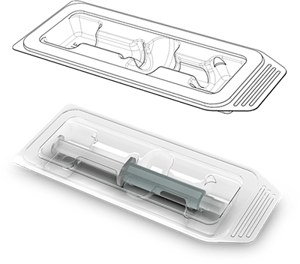 Produced in an in-house ISO Class 8 Cleanroom, Dordan's medical packaging utilizes six-decades of custom thermoform design and manufacturing excellence. Dordan is ISO 9001:2015 certified for the design, manufacture, and distribution of custom thermoformed products and packaging.
All medical thermoforming is done in a fully enclosed and complete hardwall construction ISO Class 8 Cleanroom. Fitted with 2019 Keifel Speedformers that utilize best-in-class automated forming, cutting, and stripping stations, Dordan's medical packaging solutions are designed to meet it's clients' quality and performance requirements.
Thermoformed Medical Packaging Solutions: