Thermoformed Dunnage Trays
---
Family-owned dunnage tray manufacturer with 60-years experience of custom thermoforming.
Custom plastic dunnage trays are highly-engineered packaging solutions for product assembly, manufacturing and distribution. Designed to protect parts and optimize shipping, dunnage trays require tight form and die cutting tolerances be held to meet its customers' requirements for problem-free use.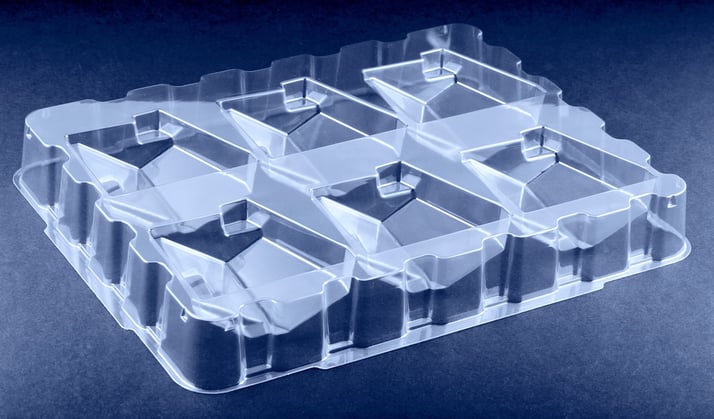 Dunnage Tray Benefits



---
Protect products and facilitate shipping, assembly, and manufacturing efficiencies.
Thermoformed dunnage trays can be designed to stack and rotate, which means that there is clearance between the top of the product and the bottom of the tray directly on top when stacked. This provides superior product protection during shipping and handling.

Dunnage trays can also be designed for automated part assembly operations. Here, locators orient the plastic assembly tray in the assembly module; and, guide robotics to the product for loading and/or unloading.

Locating features on the CNC-machined thermoform tooling mate with the cutting die to facilitate tight die cutting tolerances.

Consistent material distribution, married with structural design features, are made possible with intelligent dunnage tray and tooling design and development; this provides the necessary rigidity and durability for material handing.

Dunnage trays can be made of recycled material; and, they can be designed for reusability.

ESD dunnage trays (electro-static discharge) dissipate the electrical charge from the thermoforming process; and, minimizes the attraction of particulate to the formed tray.
Thermoformed Dunnage Tray Designer & Manufacturer
---
ISO 9001: 2015 certified dunnage tray supplier with in house design, tooling, & manufacturing.
Dordan is a full service thermoformer of plastic dunnage trays; the same team of packaging engineers that develop the solid model NX dunnage tray design also produce the NX CAM/CNC machined stainless steel tooling. This integration between design, tooling, and thermoforming allows for the manufacture of high quality dunnage trays in quick turnaround at competitive pricing.

Dordan strives to find the best compromise between dunnage tray design and material thickness in order to save customers money, while meeting the performance and quality requirements.

Customer-specified critical tolerances are integrated into the dunnage tray design process at Dordan. Here, a multi-departmental workflow between engineering, quality control, and production ensures that dunnage tray tolerances are met during manufacturing.

Automated optical inspection equipment rapidly quantifies the dimensions and tolerances of the thermoformed dunnage trays.

Dordan is ISO 9001: 2015 certified with an ISO Class 8 cleanroom for manufacturing medical, electronic, and automotive handling trays that require monitored levels of particulate in the production environment.