Cleanroom Thermoforming
---
ISO Class 8 cleanroom for manufacturing medical packaging solutions.
Dordan has an in house and complete hardwall, fully enclosed cleanroom for manufacturing medical tray packaging, surgical kits, clamshells, pharmaceutical blisters, and assembly trays .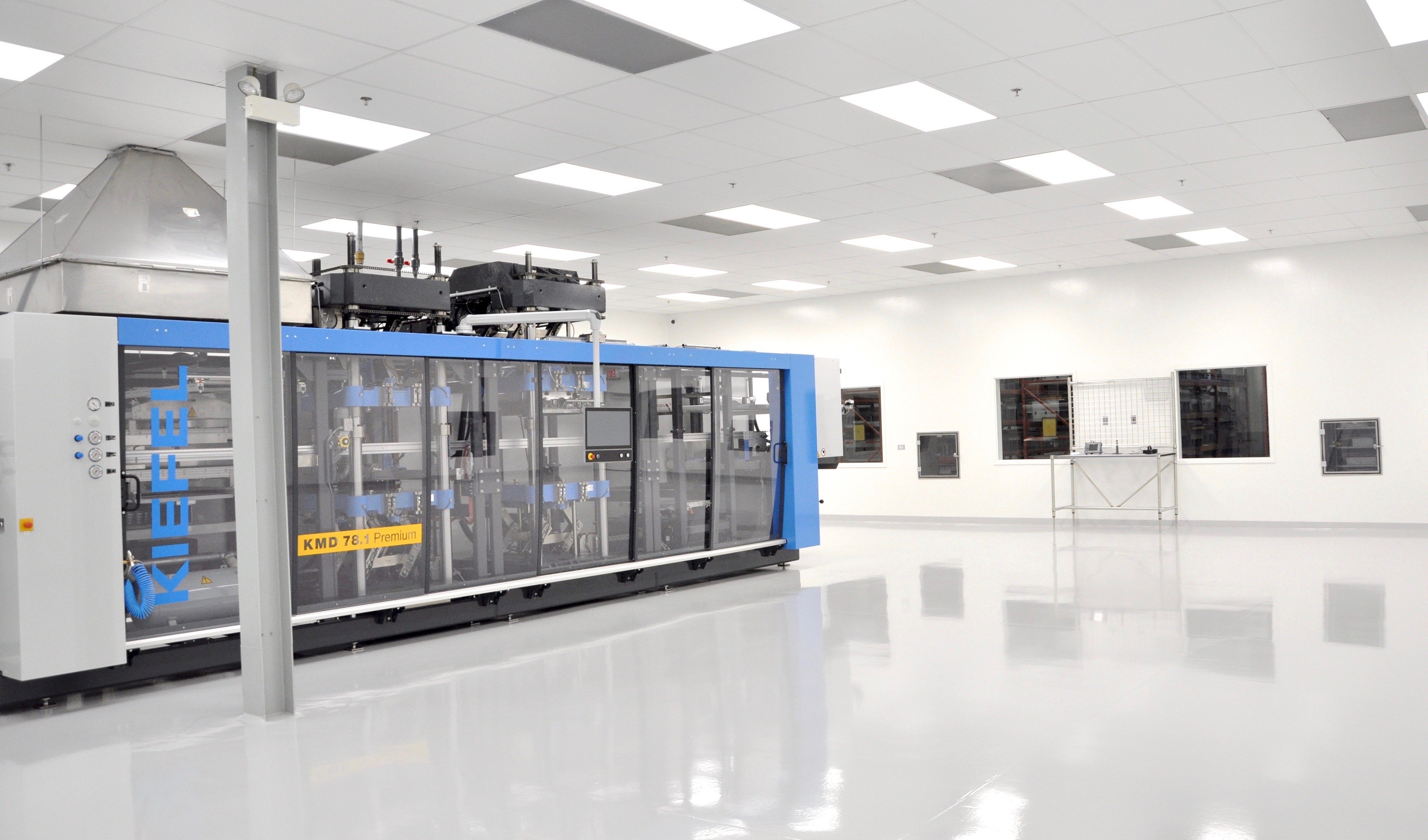 Dordan's cleanroom houses Keifel Speedformers with best-in-class forming, cutting, stripping, and stacking stations. These thermoformers have advanced machine controls and programming capabilities, allowing for the production of consistently high quality medical packaging. All cleanroom tooling and ancillary components are designed, produced, and assembled in house.
Cleanroom Tooling Features
---
Stainless steel heated dies, form tools, assist plugs, strippers, and stackers
Heated cutting dies with minimalist tag design allow for clean cutting, reducing fiber hairs and tags on the flange of the cut part.

Stainless steel dies, build ups, and form tools, married with syntactic foam assist plugs, allow for production of consistent and high quality thermoformed parts.

Automated strippers and custom stackers facilitate the efficient production of medical packages.

Stacked parts are moved from the press to the inspection table via custom conveyors, where they are checked for quality, double bagged, and placed in air tight pass throughs for secondary packaging.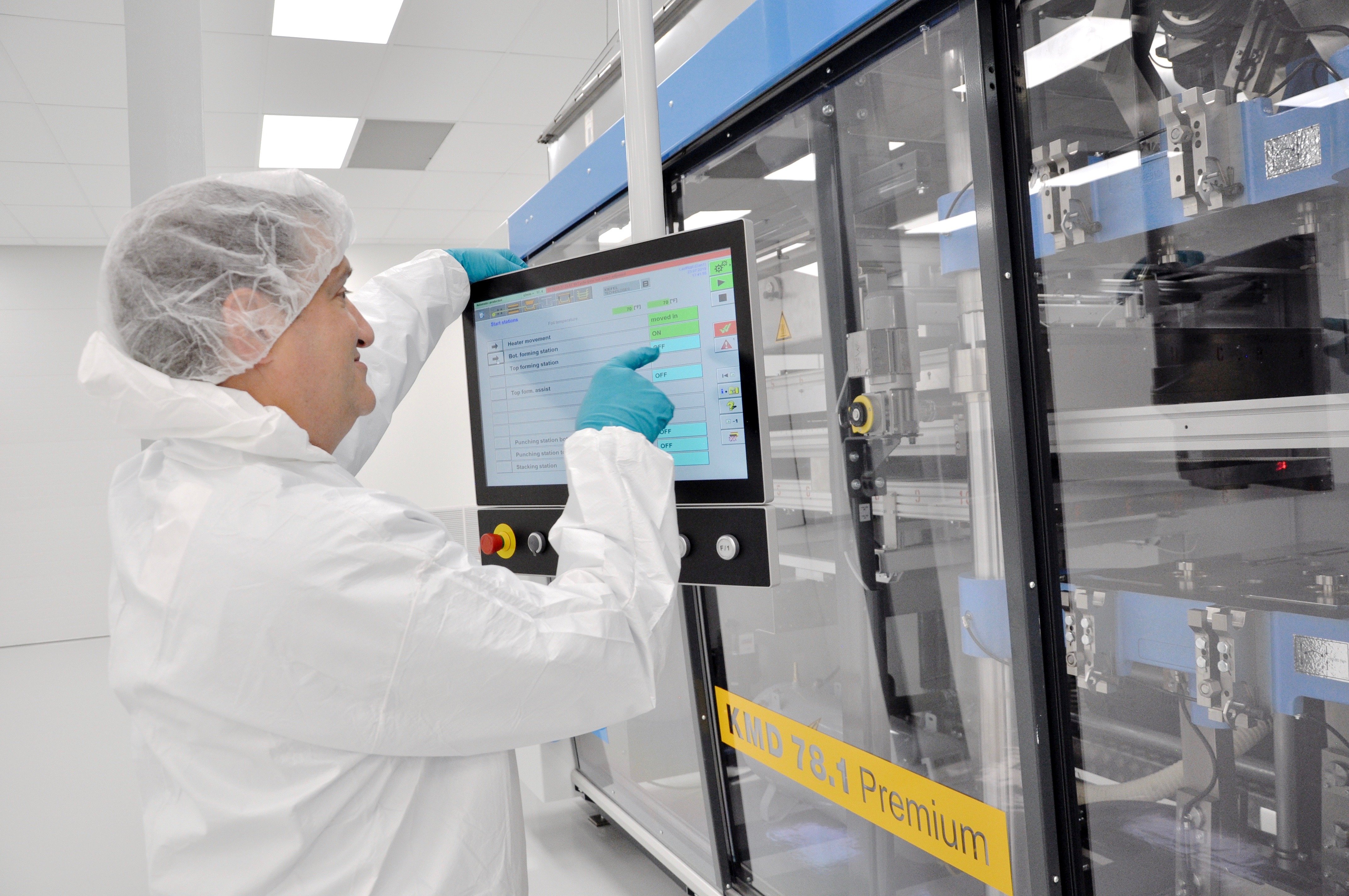 Cleanroom Quality Control
---
Prep | Inspect | Monitor | Document | Report | Analyze
Dordan's cleanroom production SOP is governed by comprehensive documentation and procedures.
All cleanroom production staff are trained in protocols and etiquette before entering the cleanroom, while operating within the cleanroom, and upon departure. Cleanroom staff are fitted with gowns, booties, hair nets, and gloves; each entry to the cleanroom requires a new set of gear.

Staff gown up in a separate room that is within the cleanroom hardwall construction, which has lower air pressure then the cleanroom, ensuring that upon entry, air is pushed out of the cleanroom into the gowning room.

Material rolls and tooling is de-skidded and wiped down with FDA certified cleaning agents, prior to being brought into the material staging room; this has lower air pressure then the and outside facility. After entry to the material staging room, the overhead door to is closed, creating an air tight chamber. Once the door to the outside facility is closed, the door to the cleanroom is allowed to open; the material is brought into the cleanroom utilizing custom designed material handing equipment certified for use in a cleanroom.

Strict terminal cleaning protocols with comprehensive sterilization procedures ensure the continued cleanliness of the cleanroom, gowning room, and material staging room.

Particulate counts are performed per a set schedule to monitor air quality; and, performance is tracked to verify and validate conformance to the environmental standards set forth in ISO.

Environmental monitoring risk assessments are performed quarterly to help identify risks and opportunities for continuous process improvements.

Process capability studies are performed for each job run, and automated optical inspection equipment technology and softwares allow for the rapid quantification of process performance.
Thermoformed Medical Packaging Solutions
---
Medical device trays | Surgical Kits | Clamshells | Blisters | Assembly trays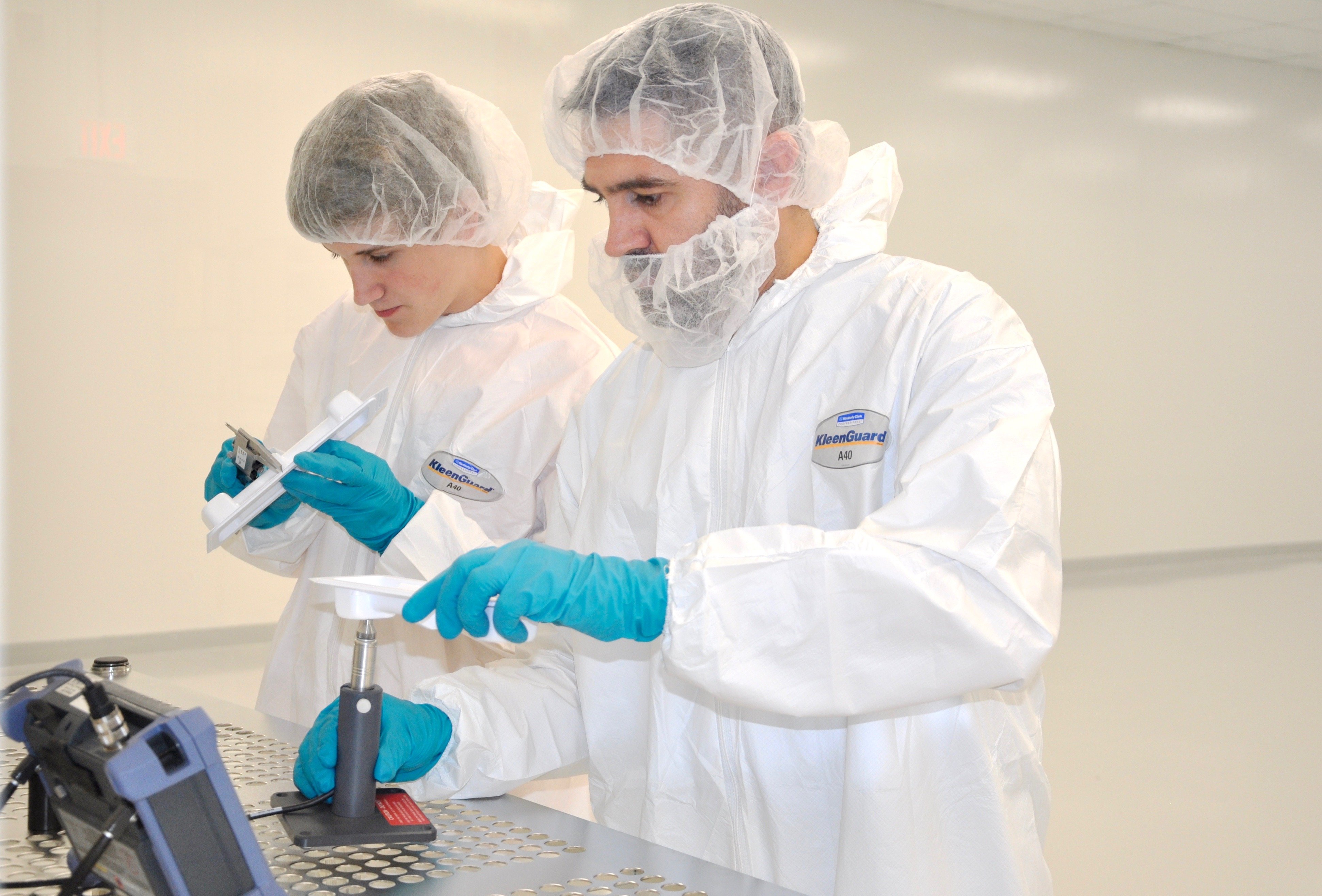 Dordan QC inspects medical tray