Sustainable Packaging
---
Dordan offers thermoformed plastic packaging, like clamshells, blisters, and trays, made from up to 100% recycled plastic. All of Dordan's PET/RPET thermoformed packaging is recyclable post-consumer insofar as the majority of American communities (over 60%) have access to facilities that collect clamshells for recycling. Learn how Dordan helped make PET clamshell packaging recyclable from 2010 to 2015 here.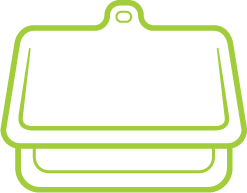 All of Dordan's packaging is made in America, and much of it is made from recycled plastic and is recyclable. Dordan sources its raw materials from local suppliers, creating efficient supply chains. Localized supply chains offer significant environmental savings when compared with packaging that is manufactured overseas and shipped to the various points of distribution. Typically, those countries manufacturing products and packaging for global consumption have mismanaged environmental regulations and waste management systems.
Plastic packaging is so prolific because it is an efficient use of resources. In a report by natural-capital valuation firm TruCost, it was found that if plastic packaging were replaced with alternative materials, then it would come at a net-environmental cost by a function of four. In other words, it would take four-times the amount of alternative material to perform the same function as plastic packaging.
Sustainable Packaging Solutions:
Dordan offers 100%, 75%, 50%, and 25% certified post-consumer plastic packaging. Post consumer means that the plastic is derived from curb-side collected and/or community drop-off municipally managed recycling programs. The largest type of post consumer packaging that is recycled into plastic sheet for thermoforming is PET beverage bottles.

Dordan offers post-industrial recycled plastic packaging. Post industrial means that the plastic comes from industrial and manufacturing operations. All of Dordan's plastic scrap is ground on-site and returned to our material suppliers, which re-extrude the flake into post-industrial plastic sheet that Dordan purchases and thermoforms. This is a closed loop plastics recycling system.

Dordan offers bio-based/biodegradable/compostable plastic packaging solutions. However, there are environmental trade-offs between traditional plastics that can be mechanically recycled, like PET, and compostable plastics, like PLA, that do not have the necessary end of life management infrastructure established. For an update on the market realities of "green" plastics, download Green Plastics for Thermoforming: A Then & Now Comparative.

Dordan offers tools for assessing the sustainability of packaging solutions. Download How to Assess Sustainable Packaging.

Dordan offers a 4-Step Design for Sustainability Process for those looking to lower the cost and environmental footprint of their thermoformed packaging. Download the whitepaper.