Thermoform Prototyping
As part of the thermoform design process, Dordan provides thermoform prototyping to its clients to confirm part fit and function prior to machining the production tooling.
Prototyping is included in the cost of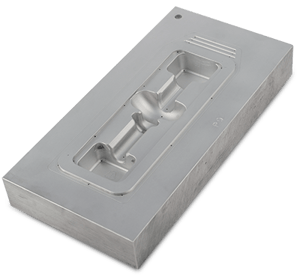 Dordan's production tooling as it is a necessary part of the thermoform design and engineering process.
Our prototype tools are machined in-house out of air-craft-quality aluminum with the same CNCs that machine the production tooling and components. They are representative of the intended production tooling cavitation and geometries, and the parts formed demonstrative of production thermoform part quality and performance.
Dordan's in-house packaging engineers work with our account managers to translate our clients packaging requirements into thermoformed prototypes.
If Dordan's prototypes do not function to the expectations of our customers, then we will revise accordingly until the prototype is approved. Prototyping allows Dordan to prove out not only the thermoform package design, but also the CNC-machined tool paths and machining programming.
At Dordan, the same team of packaging designers that engineer the thermoform design also develop the prototype and production tooling, allowing for no translation issues between softwares and machining technologies. This integration allows Dordan more intelligent quality control over the thermoform part production process, which equates to the production of consistently high-quality thermoformed product and packaging solutions in quick turn-times at competitive pricing.