Thermoform Package Design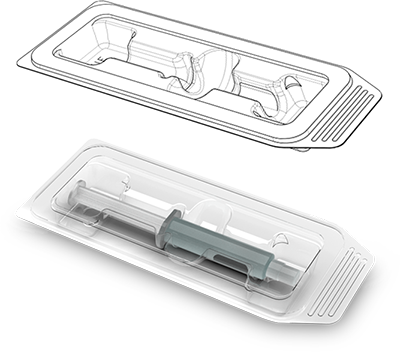 Dordan has 55-years experience designing thermoform parts and packaging like plastic blisters, clamshells, trays, and components. Dordan is a full-service, engineering-based thermoform packaging designer and manufacturer, offering all design, tooling, and production services in-house.
Dordan designs its thermoforms for the conversion process; that is, we design packaging for thermoforming. Plastics thermoforming is a highly interdisciplinary technology encompassing chemistry, physics, materials, mechanical engineering, and thermodynamics competence (Gruenwald). It is therefore paramount that thermoform engineers design parts and packaging with keen insight into the process of plastics thermoforming.
At Dordan, the same team of packaging engineers that design the thermoform part or package also develop the CNC-machined aluminum tooling on which it is formed. This integrated approach to package design and tooling engineering is overseen by Dordan's General Manager, who has over 30-years experience with thermoform engineering, tooling, and production.
This collaborative and experienced-based approach to thermoform part design and development translates to the production of quality thermoformed parts and packaging that meets the requirements of our customers.
Dordan Thermoform Package Design Process:
Dordan's packaging engineers work with our account managers to translate clients' packaging requirements into prototypes.

Complete thermoform design, engineering and prototyping is included in the cost of Dordan's production tooling.

Dordan is proficient with creating, importing and revising, and/or replicating different design files and formats for customer review prior to prototype.

Dordan can provide photorealistic renderings and 3D videos of the package design, demonstrating shelf impact.

After prototype approval, Dordan develops the production tooling.

The entire thermoform design and tooling development process is structured by Dordan's ISO 9001:2015 certification for the design, production, and distribution of thermoformed products and packaging.