Thermoform Package Design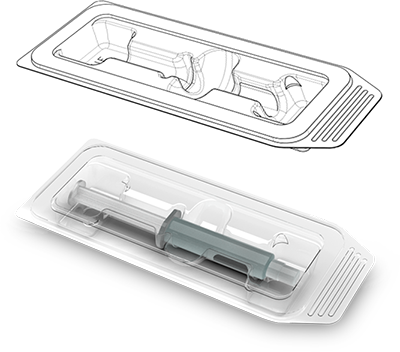 Dordan has 55-years experience designing thermoform packaging like plastic clamshells, blisters, trays, and components.
Dordan is a full-service thermoform designer and manufacturer. Our in-house engineering, tooling, thermoforming, and quality-control expertise allows for the development of thermoformed packaging designs that meet the requirements of our clients, while be efficient to manufacture.

This experience-based, multi-departmental approach to thermoform design means that we design packaging for thermoforming.
The result of having complete control over the thermoform design and manufacturing process is the production of consistently high-quality thermoformed product and packaging solutions in quick turn-times at competitive pricing.

Dordan Thermoform Package Design:
Dordan's packaging engineers work with our account managers to translate clients' custom packaging requirements into prototypes.

Complete thermoform design, engineering, and prototyping is included in the cost of Dordan's production tooling.

Dordan is proficient with creating, importing and revising, and/or replicating different design files and formats for customer review prior to prototype.

Dordan can provide photorealistic renderings and 3D videos of the package design, demonstrating package assembly and/or shelf-impact.

After prototype approval, Dordan programs, machines, and assembles the production tooling and ancillary components.

The entire thermoform design and tooling developmental process is overseen by the same team of packaging engineers and is structured by Dordan's ISO 9001:2015 certified quality management system.
Package Design Case Studies: