Dordan Quality Control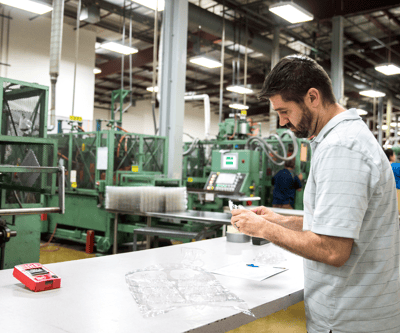 Dordan is ISO 9001:2015 certified for the design, manufacture and distribution of thermoformed products and packaging. The quality policy at Dordan Manufacturing is to ensure complete customer satisfaction through on-time delivery of defect-free products and services. Dordan shall strive to continually improve the quality and value of the products and services provided to our customers.
Quality Control Process Objectives:
To prevent the generation of defective thermoformed parts and minimize the incidence of producing non-conforming thermoformed parts.

To detect out of control processes as early as possible to institute correction and reduce waste of materials and resources.
These objectives are met through a variety of processes, including Dordan's Production Part Identification & Traceability Procedure, which allows for the aggregation of information pertaining to our KPIs to allow for data driven analysis and decision-making.
Quality Control Process features:
In-coming plastic Material Inspection Process ensures that the material purchased is approved and meets Dordan's plastic performance requirements.

All parts manufactured at Dordan are required to have a QC Drawing produced by QC Department.

Inspections are conducted according to established QC Standards & Values. Standard analytic tools are used to determine production part control. Inspections and measurements are recorded and filed.

Finished parts are removed from process by hand; parts are inspected, sorted, and counted before being packed for shipment.
Through constantly improving product quality via measurable process improvements, Dordan's thermoformed product and packaging is produced for customer satisfaction.