Automotive Trays & Packaging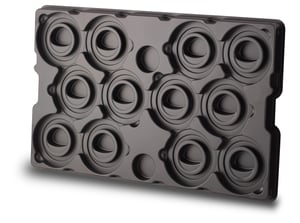 Automotive products require highly-engineered, high-quality product and packaging solutions.
For automotive OEMs, dunnage trays that offer durability and reusability, ease of loading, and automation-functionality are necessary. For the automotive aftermarket, plastic blister and clamshell packaging is needed.
Dordan has 55-years experience designing and manufacturing thermoformed product and packaging solutions for the automotive OEM and aftermarket industries.
Dordan is an engineering-based designer and manufacturer. Our expertise lies with helping clients solve packaging and production problems. All automotive OEM and aftermarket packaging is designed and manufacturerd with our ISO 9001:2015 certified quality management system, allowing for the production of high-quality thermoformed parts and packaging in quick turn-times at competitive pricing.
Automotive Packaging Solutions:
For automotive OEMs, dunnage trays securely hold and protect products and components during manufacture, assembly, transport, and distribution. Designed to work with new and/or existing automation, work-in-process trays are reusable/returnable and stackable, facilitating efficient packout, and procurement savings.

For the automotive aftermarket, Dordan designs plastic clamshells, blisters, and thermoformed trays that help protect and sell product.