Thermoformed Dunnage Trays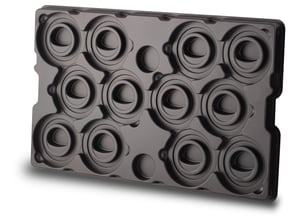 Dunnage or work-in-process trays are designed to effectively protect and transport products and components during manufacture, assembly, and distribution. These functional thermoformed trays provide solutions for safely moving products from location to location within a facility, between supply-chain partners, and/or to the end-customer.
Thermoformed dunnage trays can be designed to be handled and loaded with robotics and automated platforms, and they can be reused. Stack-and-rotate design features allow dunnage trays to be loaded and stacked without damaging the product, while optimizing product packout densities.

Dordan Manufacturing is a family-owned and operated company that has been designing and thermoforming plastic dunnage trays for 55-years. We are a full-service engineering-based dunnage tray designer and thermoformer, offering all dunnage tray design, tooling, and thermoforming in-house under one-roof. This integration between dunnage tray design and manufacture allows for the production of high-quality thermoformed dunnage trays in quick turn-times at competitive pricing.
On the vehicle of ISO 9001:2015 certification, we work to continuously improve the value of the products and services we provide to our customers. Dordan provides thermoformed dunnage trays to OEMs and their supply-chain partners in the automotive, electronics, and healthcare industries. To these regards, we implement different quality-control procedures in order to meet the various quality, safety, cleanliness, performance,and compliance requirements.
Dordan thermoforms dunnage trays up to 30" x 38" x 5.5" and between 0.010" - 0.080" thick. Dunnage trays can be manufactured from a variety of plastic materials and thicknesses, offering different impact-strength and/or degrees of electrostatic-discharge resistivity (ESD materials).