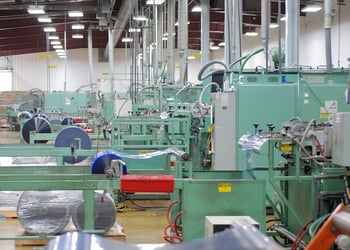 Plastics thermoforming is a conversion process that heats plastic sheet to a pliable state and forms it into or over a thermoforming tool or mold via heat, pressure, and vacuum, and then die-cuts the formed parts from the plastic web, where it is stripped and checked for quality.
Dordan has been thermoforming custom packaging solutions, like plastic clamshells, blisters, trays, and components, for 55-years. Family-owned and operated, we are a full-service thermoformer, offering all package design, tooling, and production in-house.
Dordan has 11 in-line thin-gauge plastics thermoforming machines that have the capacity to convert 75-million pounds of plastic material annually.
Dordan Thermoforming Capabilities:
We have small and large format thermoformers depending on the requirements of the part and production volumes. These two sizes allow for production flexibility as we are able to use any small tool on any small format machine and any large tool on any large format machine. This scheduling flexibility results in shorter lead-times and right-sized tooling, which equates to right-priced thermoformed parts and packaging.

Dordan is a full-service thermoform designer and manufacturer. Because we have control over both the design and production of the thermoformed package, quality-control is about monitoring our production process. Should there be an issue of production part non-conformity, we are quick to isolate the issue and eradicate.

We are ISO 9001:2015 certified for the design, manufacture and distribution of custom thermoformed products and packaging, which allows us to measure the quality of our plastics thermoforming.

Dordan can produce thermoformed parts up to 30" x 38" x 5.5" and between 0.010"- 0.080" thick.