Hello and happy Monday! Can we please just pause for a moment and recognize that we are now in the last week of August?! What the what?! Where has the summer gone!
Sooo some time ago I implemented a zero waste to landfill initiative at Dordan that looked to divert all of Dordan's waste from landfill by recycling, composting, upcycling, and repurposing. I visited Burt's Bees manufacturing facility in Durham, North Carolina, and learned best in class waste diversion tactics that I applied to Dordan's ZWTL challenge.
The first step in moving towards zero waste is to perform a waste audit; that is, an assessment of the types of waste produced at Dordan. Good ole dumpster diving. Here I am pre and post dumpster dive, notice the misery of the latter?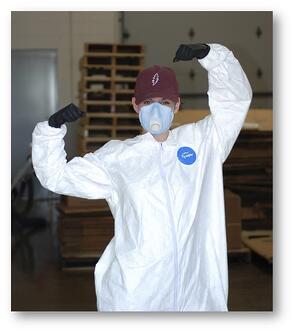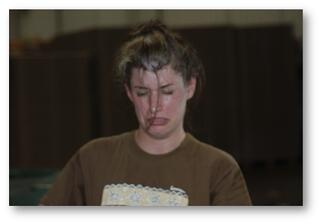 If you can't manage what you can't measure, then quantifying the types of waste generated at a manufacturing facility is the first step towards achieving zero waste.
After performing several waste audits at Dordan, we isolated the "low hanging fruit"; those materials that made up the majority of the waste stream and were therefore the easiest to collect and resell to recyclers. We began baling our corrugate for recycling; and, we collected our damaged wood skids and material cores. Dordan has always collected and recycled its plastic scrap and aluminum as these materials have post-industrial value. Making the business case for recycling the other materials, however, was a bit more of a challenge.
The main "economic problem" with working towards zero waste to landfill is it often times costs more to collect and resell to recyclers than it does to landfill the material. For recycling to be profitable, you need to generate the quantity required to justify collection. Often times, collection is the most expensive part of recycling, be it post consumer (curb side) or post industrial (like Dordan and zero waste). So a way to overcome this economic barrier is to condense the material at the source and warehouse until the desirable quantity is achieve to justify a sale to secondary markets; hence, on site bailers, condensifiers, etc. This is not ideal for small or medium manufacturers and those with limited warehousing space.
Another approach to this issue of generating sufficient supply to justify collection and resale is the milk man concept; that is, having several manufacturers located geographically close to one another agree to collect the same types of post industrial materials i.e. corrugate, for recycling. Then, selecting one buyer to pick up the same material at the different facilities, providing the quantity to justify the collection as the value of the recyclate will be more than the cost of collection and resale.
To this vein, Dordan joined Chicago's Waste to Profit Network, a working group of Chicagoland manufacturers working towards zero waste or looking for "byproduct synergies" i.e. one man's trash is another man's treasure. This Network created and manages Cirrus, an online tool for manufactures interested in resellling or buying post-industrial materials otherwise destined for landfill.
Unfortunately, Dordan found no by-product synergies with other manufacturers using the tool; and, was unable to partner with other local manufactures to collaborate on the collection and resale of common post industrial materials.
Another portion of a company's waste stream is "organic waste"; that is, food and yard waste. One of the best ways to manage organic waste is to compost. As such, Dordan constructed a home composter on its property and began collecting all the food waste and yard waste generated by the company.
Two years later, I regret to inform my sustainable packaging devotees that the compost project was a total failure. Not only were we unable to create the necessary environment to encourage microbial ingestion, but we were also unable to achieve the right balance of "wet" to "dry" waste. The former being food waste and the latter being other organic matter, like office paper or leaves.
As such, it was my responsibility to put this initiative to death. Check out the video below of my bro and I demolishing the composter last week. And, learn about home compostable bio plastics and bees! During the video I reference Dordan's Bio Resin Show N Tell as the culmination of our R&D into bio based/biodegradable/compostable and otherwise "green" plastics. You can download that research here.