Dordan Displays X Card at Pack Expo, Sustainable Trapped Blister Packaging for Retail
Pack Expo is produced by PMMI, which is a trade association with more than 560 members representing packaging material manufacturers, converters, machinery suppliers and service providers across the packaging supply chain.
Chicago—November 2, 2014—Dordan Manufacturing to display sustainable trapped blister packaging solution X Card at International Pack Expo, booth #8403. For the first time since it began exhibiting at Pack Expo in 1994, custom thermoforming company Dordan Manufacturing will be showcasing a sustainable union of paper and plastic aimed at the Big Box buyer desiring this type of retail packaging.
Following introductions to VP of Business Development Todd Brandel at Aurora, IL-based Excel Displays & Packaging this summer, Dordan's Sustainability Coordinator Chandler Slavin learned about X Card; which, unlike many trapped blister packs, uses cohesive sealing technology that reduces the energy required to seal the package when compared with traditional, heat sealed trapped blister packs.
While cohesive sealing is not a new technology, Excel has innovated the process by which the boards are coated. Normally, the process of cohesive sealing is an offline process, meaning it is done as a separate operation to die cutting. Excel, however, coats the cards inline using a pre-determined pattern; this allows for total control over what parts of the board are coated with adhesive and consequently, total control over the seal. The result is material savings and complete recyclability of both the thermoformed blister and paperboard component at end of life.
Excel's Brandel explains, "Our X Cards are superior to their heat-sealed counterparts because both the thermoformed blister and SPF certified paper can be easily separated and recycled because there is no adhesive contaminating the thermoform. This is not often the case for heat sealed trapped blisters."
On Dordan's motivation for showcasing this technology at Pack Expo, Slavin explains, "We understand that different customers have different needs; some buyers truly appreciate the ease of fulfillment and shelf impact of trapped blister packaging. As such, we want to be able to offer this type of retail packaging solution. However, it wasn't until I understood Excel's cohesive sealing technology that allows for total recyclability of both the paper and plastic packaging component that I thought this was a solution worth endorsing, as end of life management of packaging is a top concern for Dordan and our clients."
Located in the Lakeside Upper Hall, booth #8403, Dordan looks forward to showcasing Xcel's sustainable trapped blister packaging solution.
Learn about Dordan's plastic blisters.
About Dordan Manufacturing Co. Inc.
Dordan Manufacturing is an engineering-based designer and manufacture of custom thermoformed packaging solutions, like plastic clamshells, blisters, trays and components. Based 50 miles Northwest of Chicago in Woodstock IL, Dordan is a 50,000 square foot facility equipped with sophisticated software and machining technologies. Family owned and operated, Dordan has 50-years-experience designing and manufacturing thermoforms parts that perform. Dordan Manufacturing is ISO 9001:2008 certified for the design, manufacture, and distribution of thermoformed packaging.
About Excel Displays and Packaging
Established in 1989, Excel Displays & Packaging is a privately owned designer and manufacturer of temporary point-of-purchase displays, high-graphic retail packaging, in-store signage, and industrial packaging (a.k.a., "brown boxes"). Its main converting facility and home office is located in Aurora, Illinois, and it operates a Sales & Design Center out of Bentonville, Arkansas. The company also has an ownership interest in two corrugators near South Bend, Indiana. www.xlpop.com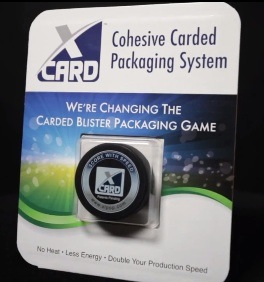 Above: X Card