Hello!
As you may recall, I completed an Executive Management Program at the University of Chicago BOOTH School of Business last winter. One of our seminars on business strategy involved how to conduct a customer analysis, as you don't have a business if you don't have customers. Seems simple enough but it was crazy how few of my classmates had actually taken the time to speak with their customers. You know, hit the street, meet with customers face-to-face, and learn how they see the company; not how you think they see it.
Our professor asked each of us to conduct a Raving Fan interview where we literally met with a customer and asked them a list of questions, all aimed at getting to the core of a customers' perception of our companies. My favorite question that concluded the interview was, "If Dordan were a car, what kind if car would it be and why?" While you may see your company as a BMW, your customers may see it as a Toyota, which totally changes the way you market yourself and differentiate yourself from your competitors. Afterall, not everyone wants a BWM, some people want a reliable, affordable, and hard-working Toyota!
Several months later I am happy to report that our customers actually, like, sort of love us. I did not perform a single customer interview where our customers were not totally happy with our products or services. I suppose that makes sense, because if they were not happy, they would probably look elsewhere, as thermoforming isn't some innovative new technology that only Dordan can do (though we like to think we do it better than everyone else, ha!).
And thank goodness that they have not looked elsewhere as I would say about 80% of our customers have been customers of Dordan for over 10 years. 10 years! Now if that isn't a good company, I don't know what is.
Below are some of my favorite customer testimonials derived from my customer analysis. Who knew our customers were better marketers than ME, ha! More customer interviews and testimonials to come!
If you have a story that you would like to submit about your experiences with Dordan, please do so here!
8/20/2014
"Dordan is a family manufacturing business that cares about its customers and the quality it produces."
[CEO of OEM industrial sealant supplier]
8/18/2014
Dordan Interviewer: Would you recommend Dordan to a colleague who does not know about us?
Customer: "Dordan would be highly recommended. Aric Slavin is very professional and very helpful. I have numerous vendors that I have to babysit; it is so refreshing to have a vendor that I don't have to!"
[Materials Manager at interventional pain management specialist]
8/6/2014
"Only about 10% of the vendors we use are rated as A suppliers in our vendor scorecard system. If I could rate [Dordan] as a vendor, I would put it in that top 10% of A vendors. There are just no problems."
[Project Manager at point-of-purchase display supplier]
8/5/2014
Dordan Interviewer: Is there anything that Dordan could do to increase its value to you as a thermoform supplier?
Customer: "You guys have already done that. When we had to change the part due to some fulfillment issue, we worked closely with Rich on how to improve part performance. We have revised this part two times now to improve its performance and durability, and Dordan was there every step of the way."
[Purchasing at global product leader of powertrain solutions]
1/11/2012
"I am constantly learning what is possible with thermoforming. Unlike a lot of engineering processes, thermoforming is a little bit of an art form, so I have a lot of respect for the designers and Engineers at Dordan. They really have a deeper understanding that you can only get through experience. Dordan also has one of the most professional and cleanest shops I have ever seen. They have a nice layout and nice equipment."
[Sam Harrington at Ecovative Design, LLC.]
5/25/2010
"Dear Dan, Rich, Aric, and John,
We would like to extend our appreciation for hosting our team at Dordan to show us the capabilities and capacity at your company. Dordan demonstrated strong attributes from your engineering design, to the tool making, to the manufacturing that makes Dordan a strong thermoformer. Thank you for sharing your site and expertise, which demonstrates the pride that Dordan has in providing customers with quality packaging solutions."
[Fortune 100 company that creates solutions to the world's toughest challenges, including security, clean energy, and safety.]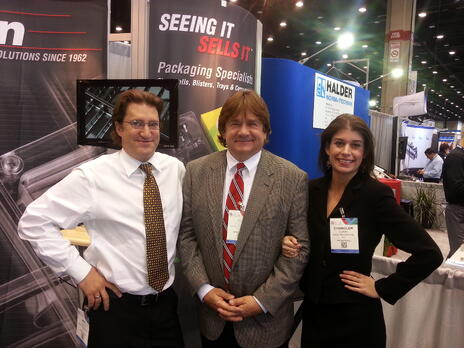 Fom our hearts to yours, THANK YOU!!!!!!!!!!
Warm Wishes,
Representatives of Dordan Sales and Management Team at this year's Pack Expo in Chicago