Hello and happy Monday!
The other day our lead packaging engineer emailed me a link to this story, which describes a California company that captures carbon from the air and converts to plastics. What the what?! Let me pause for a moment as you re read that sentence and ponder its amazing ridiculousness.
And the fact that this news story was published via CBS news, a "real" news source, ponders me further.
Bioplastics are cool but critics point to the feedstocks being derived from otherwise valuable bi-products of food production as reason not to applaud. If this technology is for real, and a literal pollutant can be captured and repurposed as the carbon feedstock of plastics, then my mind is blown.
I reached out to one of my friends in the material science and engineered resins space, asking if this technology was viable. He confirmed that Dell was in fact into "carbon air;" Dell is not a company to doubt in the space of sustainable packaging solutions. They were one of the first consumer electronic brands to use Ecovative Design's mushroom based protective packaging for their laptop computers, which was admirable as heck! So yeah, keep your eyes peeled for more commentary on this air carbon business. Science is awesome!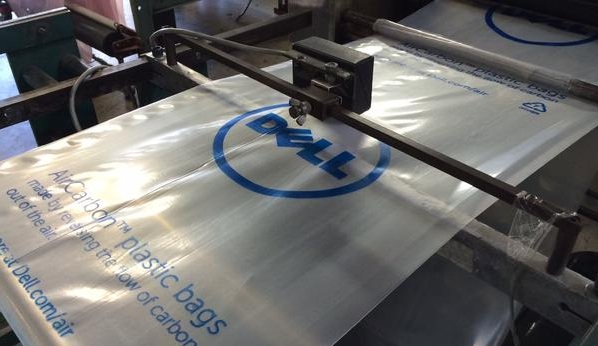 Pictured: Dell's "air carbon" plastic bags, CBS News