Thermoformed medical packaging is made by using pressure and vacuum to push malleable plastic into a CNC machined aluminum tool. While the design of the package is critical, the development of the thermoform tooling is paramount to the production of high-quality parts.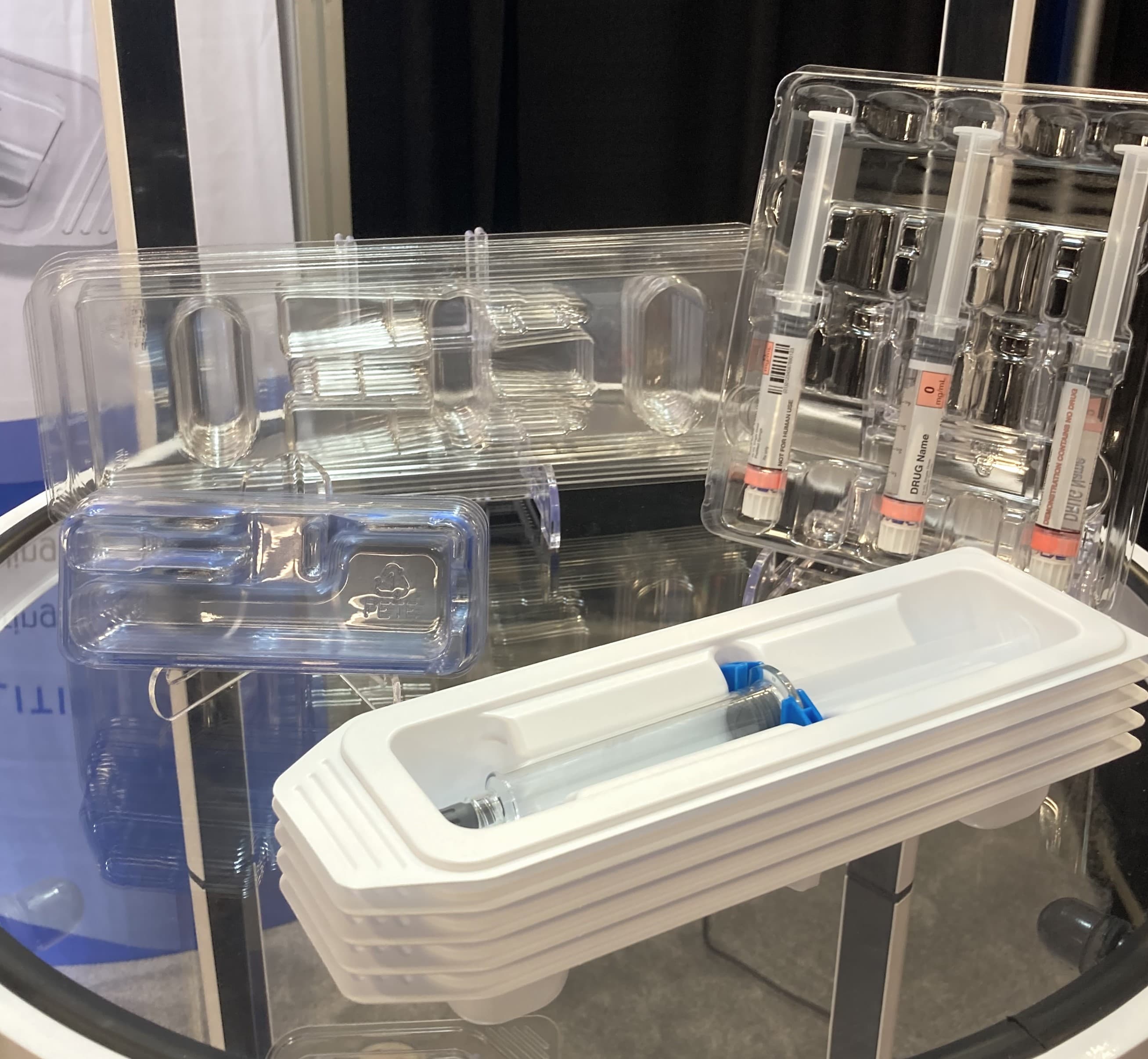 Dordan's medical tray packaging on display at MD&M in Anaheim
Cleanroom tooling—what is used to form medical packaging in a cleanroom environment—works to produce the most consistent, high-quality parts by manipulating how plastic moves into the tool during the thermoforming process. If the medical tray seal flange is too thin, for instance, then there is potential for a bad seal; if the material thickness doesn't meet minimum thickness requirements, then there is opportunity for pin holes.
Medical packaging requires even material distribution throughout the thermoformed part, maintenance of tight tolerances, and mitigation of angle hairs. To achieve this, one must utilize tooling with high quality materials, advanced engineering, and thorough QC processes.
Thermoform tooling for manufacturing medical packaging is comprised of the form tool, water plate, pressure box, assist plugs, and cutting die.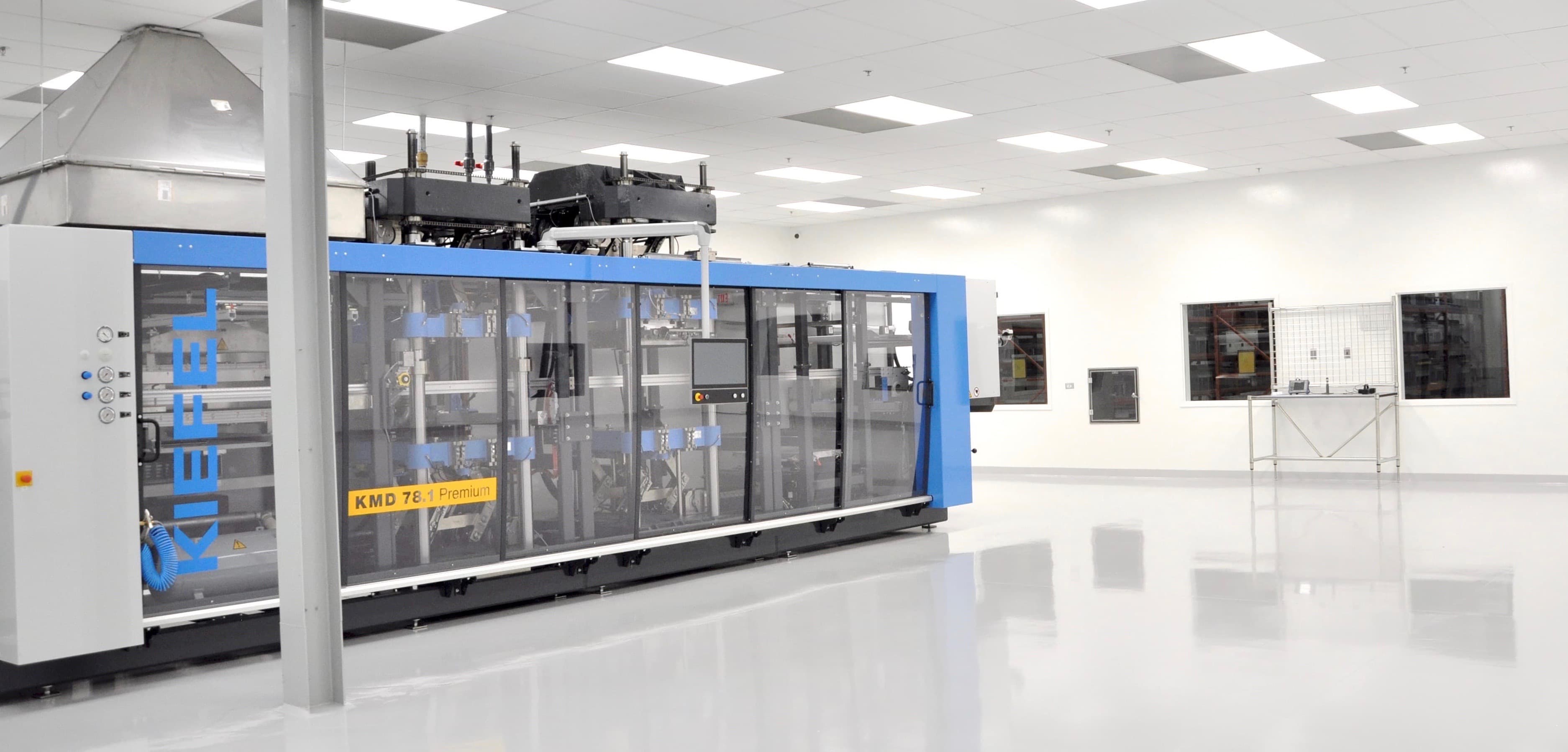 Dordan's ISO class 8 cleanroom for thermoforming medical packaging
---
Water Plates
Water plates function to take heat from the aluminum form tool and equalize the temperature for faster thermoforming and better medical packaging. In the cleanroom, the water plates have many more water inputs and outputs than standard production tooling; this provides better cooling of the mold that results in consistent material thickness throughout the thermoformed part. Water plates are machined to be extremely flat, allowing for exceptional surface-to-surface contact with the mold that further helps cooling.
Form Tools
Form tools (molds) are cut from a single block of aluminum and like water plates, machined and gauged flat to help regulate heat working with and through the mating water plate surface. CNCs are equipped with routinely-calibrated gauges that verify specs are being met during and after the machining process.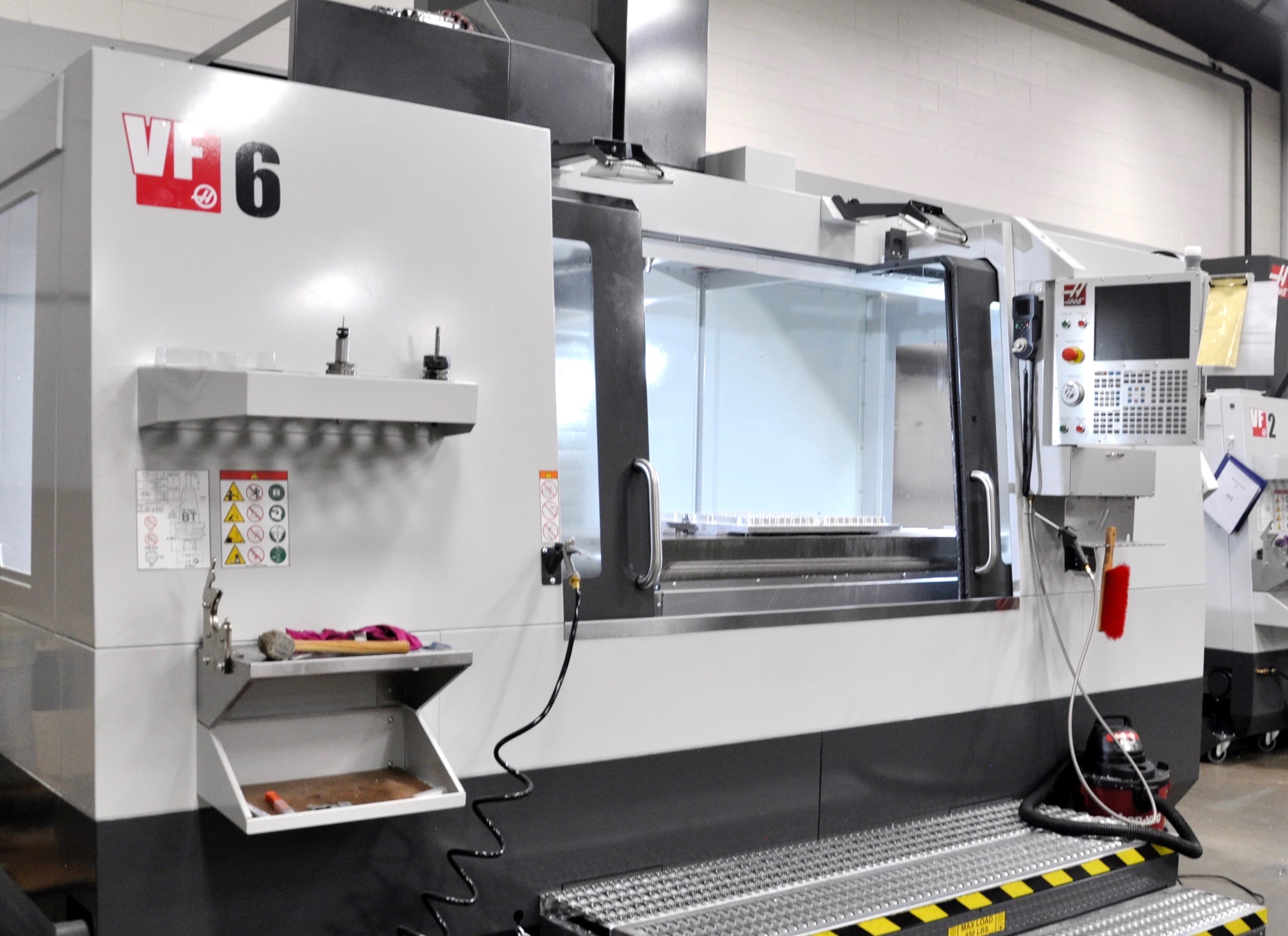 CNC for machining cleanroom tooling at Dordan Manufacturing
Assist Plugs
Assist plugs help push pliable plastic sheet into the form tool cavities during the thermoforming process. Cleanroom tooling uses machined syntactic foam assist plugs, which, unlike other assist plugs materials, doesn't steal heat from the plastic sheet. This means that there is no instantaneous material cooling where the plug fist touches the sheet, and therefore, more consistent material thickness down the medical packaging sidewalls.
Pressure Boxes
Opposite the mold side, pressure boxes create a sealed space that blows pressurized air on top of the pliable plastic sheet that is simultaneously being pushed down into the mold via vacuum pressure. Assist plugs are mounted to pressure boxes so every impression of the tool on the sheet is met with slightly-offset assists. Cleanroom pressure boxes can be machined, allowing for very accurate alignment of assist plugs and the pressure box to mold cavity surfaces. . This helps line up assist plugs more accurately to the surface of the mold for consistent and even material distribution.
Heated Cutting Dies
Steel rule dies cut parts from the plastic web after forming. In the cleanroom, heated dies are used, which helps reduce the potential for fiber hairs and offers a cleaner cut. The cleanroom dies are made from a composite board that does not contract or expand with the introduction of heat, unlike wooden dies. Cleanroom die build-ups and cut plate build-ups are machined and confirmed to .0007" flatness. This allows an accurate depth of cut through the plastic sheet, reducing set up time and facilitating better cutting and longer rule sharpness. The engineering and machining of die cut tooling is designed to work hand in hand with Kiefel's "Kiss Cut" method.
---
Taken together, cleanroom tooling for manufacturing medical packaging uses high quality materials, more complex engineering, and modifications to standard processes. When you purchase cleanroom tooling for thermoforming medical packaging, you are demonstrating commitment to the packaging's ability to maintain the safety and efficacy of the medical device.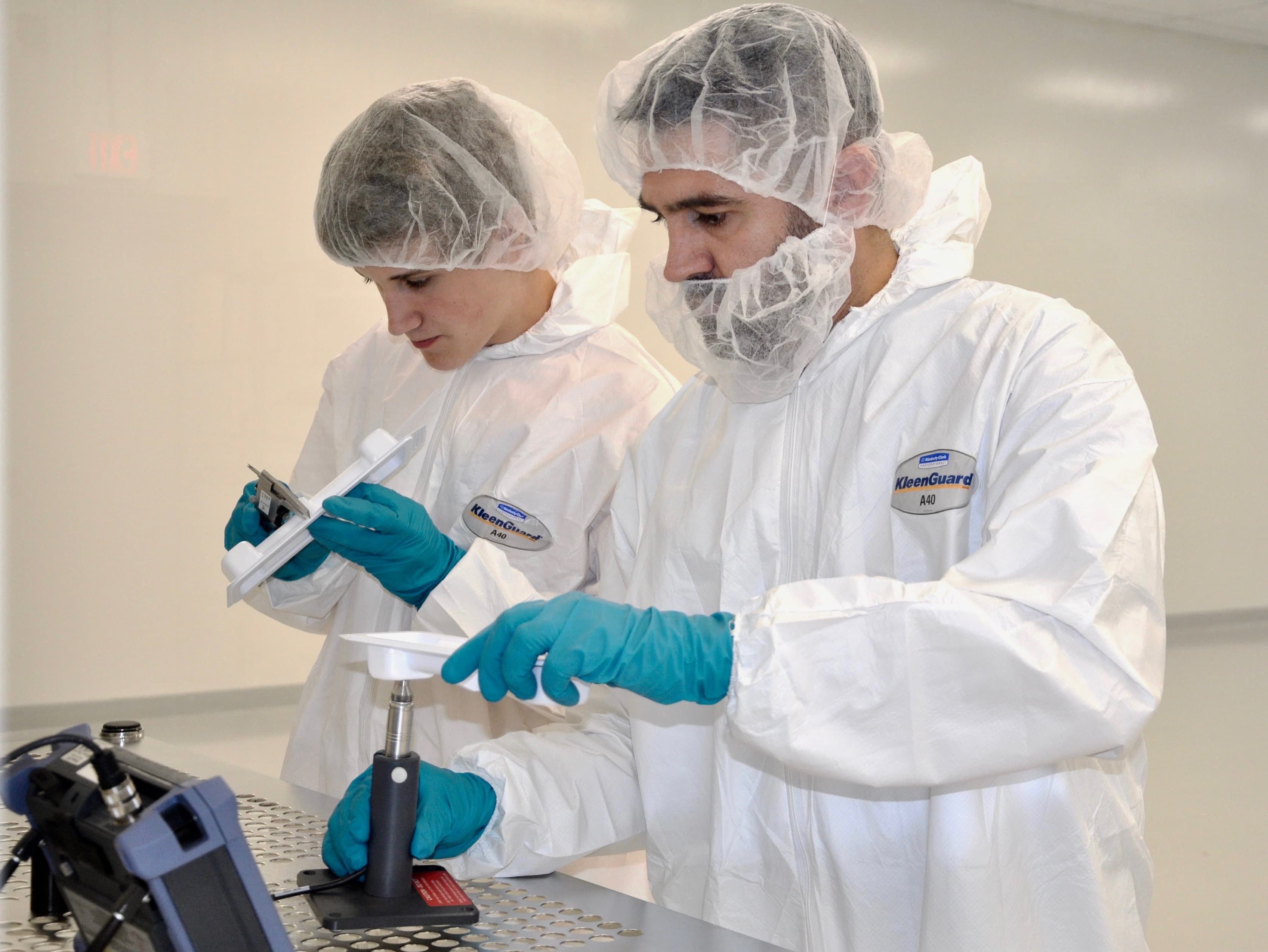 Dordan Quality Manager and tech inspect a medical device tray in Dordan's cleanroom to ensure conformance with specs.