Hello my sustainable packaging people!
My first article for Packaging Digest Magazine was an interview with former V.P. of U.S. Manufacturing at Walmart on the retailer's Made in USA Initiative. Published in March of last year and titled "Walmart's Made in USA Initiative Bodes Well for U.S. Packaging Sourcing," the overall tone is optimistic. My conclusion ponders:
What does the writing on the wall say? Will small-town America witness a return of commerce to their empty storefronts; will my dad's company again provide retail packaging to clients lost years ago? Will the U.S. Manufacturing Renaissance help re-position America as a world leading economy? As someone who graduated from college in the aftermath of the 2008 recession, I speak for a generation of under-employed Millennials when I say: "Let's hope so!"
Fast forward to present day and what is the status of Walmart's Made in USA initiative?
Well, not so optimistic.
Per the Alliance for American Manufacturing's June 27 statement, Walmart's Made in America pledge needs work, as the Chain imported more consumer goods than any other retailer-- and these imports increased in 2015.
Sigh.
Said Scott Paul, President of the Alliance for American Manufacturing:
"As I've said since the pledge's initial announcement, it's an undeniably good thing that America's largest retailer sees the value in promoting American-made products. But when you look at the numbers, this pledge isn't even a drop in Walmart's bucket.
"Walmart is the country's top retail importer. Since its 2013 pledge, the company's imports have continued to increase, suggesting that while the retailer might technically be buying a few more American-made products, Walmart is also just buying more products. In this case, volume isn't a commitment, it is a business decision — and I encourage Walmart to dramatically alter its import product mix rather than padding its goal total by counting perishable groceries, which can't really be outsourced.

"The good news is that trends show consumers are proud to buy American, and there's a real opportunity for Walmart to make a difference here by helping consumers understand their purchases in meaningful ways. Imagine, for example, leaving the store with your receipt and noticing a line at the bottom that states how much money you spent on American-made products. This not only supports our makers; it incentivizes our consumers.

"At the end of the day, it is simple: when you buy American-made products, you support American jobs. If retailers like Walmart are truly committed to America's manufacturers, they will take the extra effort to support our manufacturing jobs by sourcing far more U.S. products — and cutting imports."
Click here for the Fact Sheet on Walmart's Made in USA pledge.
Click here to see how Walmart is misrepresenting it's Made in America claims.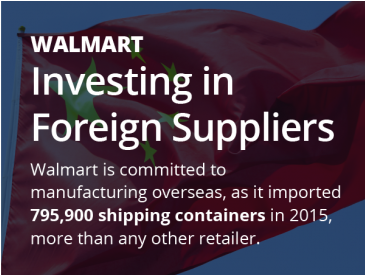 Have a safe and celebratory Independence Day!
To learn about Dordan's thermoformed retail packaging solutions, click here.