November 13, 2018—Woodstock, IL—Dordan Manufacturing, a full-service custom thermoform designer and manufacturer, proceeds with building an onsite and fully enclosed hardwall construction ISO Class 8 Cleanroom for the production of medical device packaging solutions.
ISO 9001:2015 Certified for the design, manufacture, and distribution of custom thermoformed products and packaging, and ISO 13485 Certification-pursuant, Dordan looks forward to offering its nearly 6-decades of thermoforming excellence to medical device designers, manufacturers, and contract manufacturers.
Dordan President & CEO Daniel Slavin explains the strategy behind its diversification; and, how this goes hand-in-hand with its approach to building a cleanroom onsite, rather that conforming to the industry trend of acquiring a medical thermoformer, or building an offsite facility:
There are many things to consider when diversifying into a new market. That which is paramount, however, is the ability to maintain the corporate culture and continued investment in core capabilities. As a privately held family-owned and operated company, we offer the medical device market an assurance of corporate longevity, transparency, and integrity. While M&A fueled by equity funds continues to change the face of thermoforming—favoring short-term gains over long-term growth while disintegrating the culture—we remain focused, investing in that which makes us great in order to facilitate the success of the company for generations to come.
Our decision to build a fully enclosed cleanroom onsite utilizing hardwall construction is fueled by this corporate culture of pride for who we are and passion for what we do. We have always done things with the goal of contributing to our customers' success. Thus, we feel as though maintaining critical quality through risk mitigation is best managed within our existing full-service and onsite thermoforming ecosystem; using our established quality management system as the springboard off which we pursue ISO 13485 Certification. While we have the ability to thermoform packaging for FDA Class 1 medical devices within a soft wall modular cleanroom that maintains an ISO 9001:2015 Certified QMS, it is not in our nature to take shortcuts when it comes to participating in our customer's success.
Dordan Manufacturing's core capabilities of engineering-centric thermoform designs and high-quality thermoforming positions the company as an appropriate suitor for medical device manufacturers and their supply chain partners. With a diverse clientele ranging from automotive OEMs to international luxury brands, Dordan is equipped with the foundation for entry to the medical device industry.
Dordan's ISO Class 8 Cleanroom to be operational spring 2019.
###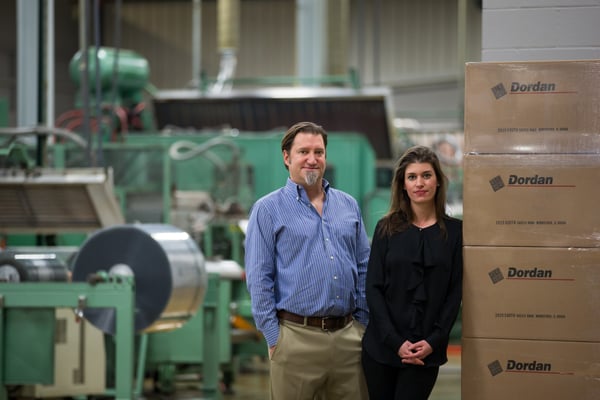 Third-generation company operators and owners, brother-and-sister duo Aric (left) & Chandler Slavin