Hey guys!
Here is my presentation on how clamshells became recyclable and recycled that I gave at the Sustainable Manufacturer Conference in 2015. Below is a 2020 video summarizing that research. To follow, the notes from the 2015 presentation.
Slide 1:
Hello! My name is Chandler Slavin and I am here to talk about how plastic clamshells became recyclable and recycled in 5-years.
Slide 2:
What is The sustainable manufacturer? A 100% zero-waste-to-landfill facility? A company that consumes only renewable resources?
Slide 3:
How about a firm that isn't dictated by the axiom that the only responsibility a business has is to reward its shareholders, but perhaps, motivated to do well by its customers and the planet?
Slide 4:
As we have heard countless times today, there is no silver bullet when it comes to sustainability; what works for one may not work for another. Success is dependent on context. But I believe if you just try to do something, that something could turn into an authentic silver bullet.
Slide 5:
When I joined my family custom thermoforming company in 2009, freshly graduated from DePaul University, I was given the title, "Sustainability Coordinator." This position was created in response to the Walmart Scorecard, which I discussed in my earlier presentation on Walmart & Sustainable Supply Chains.
What does that mean… I thought to myself, I coordinate sustainability?
Slide 6:
I was at my first Sustainable Packaging Conference when I learned that the clamshell and blister packaging that Dordan designs and manufacturs is not recycled post-consumer, and therefore, not considered "recyclable." What?! How is it that all the high-quality thermoformed plastic packaging coming off our production lines is destined for landfill?
Slide 7:
This simple inquiry became the something that became my silver bullet.
For the last 5 years, I have worked to make plastic clamshell packaging recyclable and recycled. And in 5 years, these containers went from being landfilled in 2009, to collected for recycling in 2013, to actually recycled in 2015.
Slide 8:
Yippee!
Slide 9:
This afternoon I am going to tell you the story of how PET clamshell packaging became recyclable and recycled. I hope, if anything, my narrative demonstrates how paradoxically simple and hard sustainability is, encouraging you all to start something; anything is better than nothing.
Slide 10:
Rewind to 2009 and I am sitting front and center at a conference, watching a presentation from the President of Environmental Packaging International, a compliancy consulting firm that specializes in extended producer responsibility; that is, the idea that producers are responsible for funding the recovery of their products at end of life. He showed a slide of what types of packaging is recyclable, where I learned that in order for a package to be considered recyclable, it has to be collected for recycling in the majority of American communities.
Slide 11:
While PET plastic water bottles are "recyclable," PET plastic clamshells are not.
I returned to the office completely perplexed: If Dordan manufacturers plastic PET clamshells out of curb-side-collected PET plastic water bottles, why can't we recycle them together?
Slide 12:
I began a blog that narrated my efforts to understand why plastic clamshells were not recyclable and what I could do to change that. Titled "Recycling in America," it includes all my emails with Waste Management, the Integrated Board of Solid Waste Management, the US EPA, the Society of Plastics Industry, and pretty much everyone in between who had some type of knowledge on recycling.
After several months of learning about plastics recycling, we were advised to send our PET clamshells to our local recycler to see if the Near-Infrared automated sorting system would sort our containers with the PET bottles. Near Infrared is the plastics industries preferred sorting technology because it can accurately identify the polymer in use by the hue or light given off as it moves through the NIR. This allows PET plastic bottles, for instance, to be sorted from other types of plastics, which are contaminants to recycling.
A week later I got a call from the recycler: he had tested our clamshells; they were sorted with PET bottles. Hurray! This means that PET clamshells could be sorted with PET bottles via NIR Systems. This means that plastic clamshells are not not recycled because issues with automated sortation.
Slide 13:
A couple days later I got a call from the Sustainable Packaging Manager at Walmart Canada. She had found my blog while researching clamshell container recycling and wanted me to join a working group on PET recycling. Canada has extended producer responsibility legislation on the books, which means that packaging "producers" are left with the bill of waste management, a tax usually bestowed upon tax payers. It is therefore in Walmart Canada's interest to invest in the recovery of the packaging it puts on shelf so as to reduce the "fee" associated with hard to recycle packaging. So I complied all of the independent research I had done the last 6 months and went to Canada. And it was awesome. I got to work with PET stakeholders up and down the supply chain on identifying the barriers to PET clamshell recycling. I learned a lot.
I returned home and wrote a report on clamshell recycling and titled it, "The Truth about Blister & Clamshell Recycling in America with Suggestions for the Industry." Therein I laid out what I believed to be the obstacles to clamshell recycling and steps the industry could take to overcome these obstacles.
Slide 14:
Packaging that is easy to collect, transport, sort, clean, bale and resell/remanufacture enjoys the likelihood of being recycled because the cost of recycling is offset by the value of the recyclate. Styrofoam is not recycled, for example, because it costs too much to ship what is essentially comprised of 98% air and 2% resin. Curb side collection isn't usually offered in rural communities, as the cost of door-to-door collection too expensive; these communities generally rely on drop off locations for recyclables, consolidating the source of collection to allow for more appealing logistics.
There also has to be "enough" of a certain packaging/material type generated in the waste stream to justify the collection and recycling of it. That is why PET bottles are popular for recycling— because so many bottles of like material and design are manufactured each year and available for recycling.
Slide 15:
To make the case for recycling PET clamshells with PET bottles, we have to understand the supply and demand realities for virgin and recycled PET.
NAPCOR, the PET industry's trade group, says the capacity for PET recycling outweighs the supply, 3:1. This means that there are not enough PET bottles being collected post-consumer to meet the demand of the recyclers.
NAPCOR's 2011 report reads, "The US now has capacity to process more PC PET packaging than the amount collected. That means that in 2012, even if no PET bales are exported these reclamation assets will be short of material. Investments in these assets are substantial and arguably the most sophisticated in the world…without reclamation plants there is no PET recycling, and these new plants are essential if respectable PET recycling rates are to be achieved. But without additional collection efforts or new streams of material, the increased capacity will only serve to drive prices to unsustainable levels" (NAPCOR, 2011).
Recycling PET clamshells, I argue in my Report, would add to the amount of PET available to recyclers, balancing the supply/demand imbalance that characterizes the market.
Slide 16
If we are going to recycle PET clamshells with PET bottles to increase the material available for recyclers, we have to confirm that clamshells wont be a contaminate to the PET bottle stream. The PET bottle industry has invested a lot of time and money into recycling and developed sophisticated collection, sortation, baling, and reprocessing methods that work to meet their buyers' specs. Adding PET clamshells to the bottle-recycling stream must therefore ensure that the quality of the recyclate isn't compromised.
I had heard that one of the obstacles to recycling clamshells with bottles is that the two packages have different intrinsic viscosities; this can be understood as a material's integrity and ability to withstand stress. Plastic bottles holding carbonated beverages, for instance, need to have a high IV to allow the bottle to be handled and not break, whereas plastic thermoforms holding your takeout don't need to have as high of structural performance properties. Every time plastic goes through a conversion process like recycling, IV is sheered off, compromising the "give" of the container.
Another concern with recycling PET clamshells with bottles is labels and adhesives used on clamshell containers can be more coercive than those used on bottles, gunking up the cleaning process.
Lastly, the idea of look-a-like contamination is of concern; that is, in MRFs employing manual sorters, how do you train staff to distinguish a PET clamshell from a PVC clamshell when moving down the line?
Slide 17:
I conclude my Report,
Where do we go from here? As illustrated in this Report, the recycling of clamshells depends on the ability to collect, transport, sort, clean, bale, and remanufacture material into new products in an economically competitive way. Issues such as adequate supply and demand and investment in sorting and reprocessing technologies need to be addressed if we as an industry plan on the inclusion of clamshells in our recycling infrastructure.
Slide 18:
After my Report was published, I was invited to present at many industry conferences, and everything snowballed.
Here is a video interview of me after I presented my Report at a Plastics News conference.
Slide 19:
And then I met Kate! She interviewed me about the work I had done leading up to the publication of my Report and the story became the COVER of Green Manufacturer Magazine in September 2011! She called me a powerhouse in stilettos. She was and is awesome.
Slide 20:
Then things really started happening.
Canadian Retailers mandated that clamshells sold at retail transition to PET to increase amount generated and available for recycling and reduce issues of look a like contamination.
The Association of Post Consumer Plastic Recyclers developed a protocol for testing adhesives used on clamshell labels for compatibility with recycling prior to entering market.
They published "Design for Recycling Guidelines" for PET clamshell containers.
Specs are created for PET bottle and clamshell bales.
SPI awards a grant to 3 municipalities to develop the systems for successfully collecting and sorting clamshells for recycling.
Wellman Plastics reports buying PET clamshell/bottle bales @10% clamshell and having no issue with recycling.
Cited issue of differences in IV compromising performance of recyclate a non-issue for plastics suppliers due to solid stating technologies and experience blending varying IVs for different levels of "gooeyness" contingent on material application.
Slide 21:
Summarizing these efforts, NAPCOR reports,
"2011 saw the first significant amount of PET clamshell packaging moving through the system in both the US and Canada. Since 2009, NAPCOR has made the removal of obstacles to PET clamshell recycling its top priority…as a way of increasing feedstock opportunities for reclaimers, and ultimately ensuring more RPET flake and pellet supply to end users. These efforts are bearing fruit, as all purchasers and processors of curbside bales are allowing some level of clamshells mixed in with the bottles…In the short-term, increased PET clamshell collection is the best hope of addressing the key issue of increasing supply" (NAPCOR, 2011).
Slide 22:
In 2012 Moore Recycling Associates published "Plastic Recycling Collection National Reach Study," which found that 57% of American communities accepted PET clamshell packaging for recycling in 2011.
Officially, PET clamshells were now recyclable.
Slide 23:
I was mind blown. I sent a congratulatory email to everyone I had worked with exclaiming, PET clamshells are now recyclable!
Slide 24:
And then I got an email from my friend and State Recycling Director for North Carolina, telling me to cool my jets. He explained that just because a container is now collected for recycling, it doesn't mean it will actually be recycled. A consistent stream has to be established, buyers developed, inefficiencies squeezed out, and more.
Slide 25:
In 2013 I was asked by the Editor of UK-based Plastics in Packaging Magazine to write a report on the state of postconsumer PET clamshell recycling since publishing my 2010 Report. Titled "The State of Postconsumer PET Clamshell Recycling: Past, Present & Future," I describe the progress in clamshell recycling and how to move the needle from just collecting clamshells to actually recycling them.
My conclusion states,
With the majority of American communities now accepting PET clamshells for recycling and the technical barriers to PC PET clamshell recycling being resolved, the floodgates to PET clamshell recycling are ready to be opened.
Will we soon arrive at a reality where demand for post consumer PET facilitates the recycling of PET clamshell containers?
Only time will tell, I reasoned.
Slide 26:
And then something awesome happened. NAPCOR/SPI released the results of the clamshell recycling pilot, which I referenced in my industry collaboration slide. And the results were good!
I decided to write one last report on clamshell recycling, describing the results of the clamshell recycling pilots. I titled it, "Recyclable vs. Recycled"; I begin,
Have the floodgates opened? Are communities finding a market for clamshell packaging? It is one thing to accept material for recycling; it is quite another, however, to actually recycle it. What follows is a discussion of how three different communities in America actually recycled post consumer PET clamshell packaging into second-generation products and packaging. Through a discussion of the different education, collection, sortation, and reprocessing methods used, insight will be provided into which model proves best in class, allowing other communities to follow suit.
Slide 27:
SPI & NAPCOR expected grant recipients to address all necessary areas to implement a comprehensive and efficient program to recycle PET clamshells, including: consumer education, outreach to non-residential sources of thermoforms, collection, intermediate processing, segregation and bailing, and, marketing of material. The grant was available to any recycling program operators that could implement a program for private, county, municipal, or joint-venture facilities; regional cooperative programs, and, state managed or directed programs.
The three selected grant recipients were: Montgomery County, MD, proposed an efficient urban/suburban model for PET clamshell recycling; Pennsylvania Recycling Markets Center proposed a rural collection model for clamshell recycling; and Firststar Fiber proposed an efficient away-from-home clamshell recycling model.
Slide 28:
Montgomery County proved to be extremely effective via manual sort: It processed clear PET clamshells in secondary sort, once all the fiber, metal, PET bottle and HDPE containers had been removed. The County trained sorters to visually identify PET clamshell packaging from other look-a-likes, relying on NAPCOR's technical training and a video it developed internally for training.
RMC, with its focus on rural recycling programs, relied on source separation at drop off locations as the primary processing method for PET clamshell recycling. Those clamshells not readily distinguishable as PET were put aside for further analysis via portable plastic resin analyzing equipment procured by RMC through grant funding.
Firstar processed curbside collected clamshells via manual sortation into mixed plastic loads. The process to recover PET bottles and clamshells was neither manual nor strictly mechanical insofar as requiring near infrared; rather, both were left on a conveyor feeding the container sort line so as to fall off the end along with aluminum cans, which were removed with eddy current. Firstar sorters removed only plastics #2-7, letting PET stay on the line. Sorters then visually identified PET clamshells on the line via NAPCOR technical training.
Slide 29:
In Montgomery County, the total PET clamshells shipped during the grant period was 258.67 Tons vs. the 40.14 Tons shipped six months before the grant.
For RMC, the PET clamshells collected were mixed with bottles, with 10% of each bale by weight estimated to be PET clamshells. Mixed PET bottle/clamshell bales totaled 27.4 Tons, 2.74 Tons being PET clamshells.
And at Firstar, a study performed on the PET sorted identified that PET clamshells represented 9% of the total PET processed.
It was determined that end market value related to combining clamshells with bottles would inform material handling procedures at the MRF level; similarly, the market would determine levels of tolerance.

Slide 30:
Like being the sustainable manufacturer, there is no one size fits all when it comes to recycling post consumer PET clamshell packaging.
These model programs demonstrate the unique character of each community's waste management systems and how this variability informs the type of sortation methods required to find a home for post consumer PET clamshell containers.
Slide 31:
My Report was awarded the cover story of the February issue of Plastics in Packaging Magazine. Plastic clamshell containers are now not only collected for recycling, but actually recycled.
Slide 32:
Here is a map that shows where PET clamshells are recycled in America. There are currently 5 MRFs collecting and recycling plastic clamshells.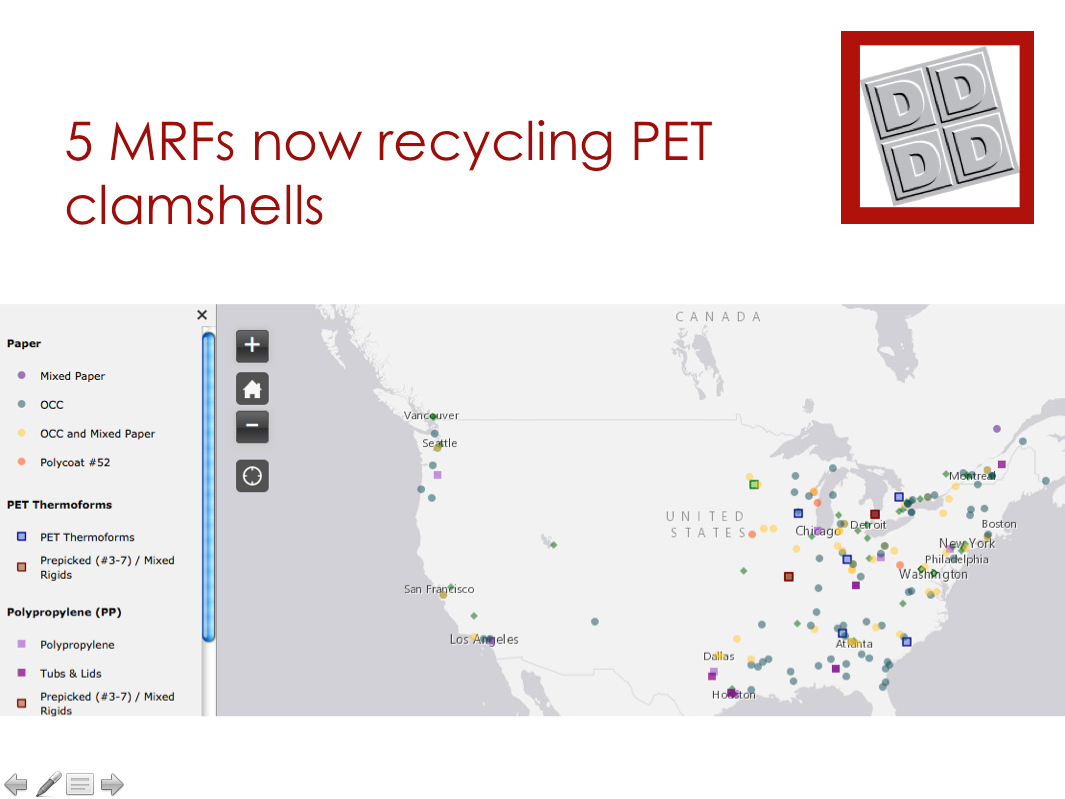 Slide 33:
We have come a long way the last five years. From landfilling PET clamshells to collecting for recycling to actually recycling, post consumer clamshells are now a sustainable medium for protecting and selling product at retail. Due to the efforts of PET and recycling stakeholders up and down the supply chain, clamshell containers are now recyclable and recycled.
Now go find your own, authentic silver bullet.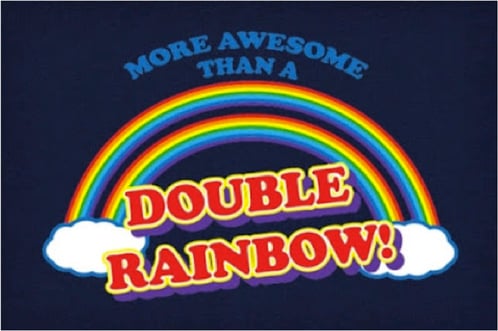 Learn about Dordan's plastic clamshells.
Learn about Dordan's sustainable thermoformed packaging.