Hello all!
I don't know how I missed this April Packaging World article, which describes the results of a survey of 700 material recovery facilities about what types of packaging are accepted for recycling. As we know, to claim a package is "recyclable" means that the package has to be accepted for recycling in the "majority of America communities" i.e. over 50%. As such, this type of research is helpful for communicating the realitiy of recycling in America.
According the surveys, "Rigid plastic items like cups and takeout containers made from plastic had the second highest acceptance ratings, between 50% and 70% of the MRFs included in the study."
And..."Cups, beverage carriers, containers and egg cartons made from coated paper, molded pulp and styrofoam had the lowest acceptance ratings at under 50% of the MRFs included."
Dang oh dang! I knew that as per this Report plastic thermoformed containers are considered recyclable as the majority of communities accept them for recycling BUT I didn't know that the acceptance rate was so high compared to the paper-based packaging alternatives!
For more details on the survey, click here.
So, who's ready to buy some thermoformed plastic egg cartons?! Go recycling!
To learn about the insane progress in thermoformed container recycling I encourage you to check out my reports, available for download below.
Recycling Report (2010): the truth about blister and clamshell recycling in America with suggestions for the industry
Recycling Report (2013): the state of post-consumer PET recycling, past, present & future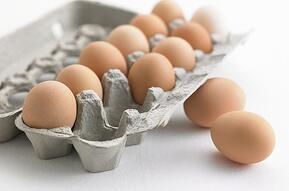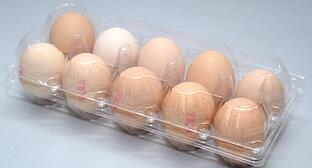 Left: molded pulp egg carton, limited recyclability; right: plastic egg carton, recyclable