THE SUSTAINABLE MANUFACTURER NETWORK ANNUAL CONFERENCE HAS BEEN CANCELLED FOR LACK OF INTEREST.
Hay my sustainable packaging friends!
The Sustainable Manufacturer Conference is getting some presssssssssss!!!!!
Editor of the Sustainable Manufacturer Network Kate Bachman wrote an article on the SMN conference keynote Tom Murray, who is a recently retired US EPA Senior Scientist. The article narrates his 40+ years of experience with the Agency, detailing his attempts to integrate environmental conservation with industry. The article was picked up by and published via GreenBiz, a popular site focused on the intersection between business, technology, and sustainability.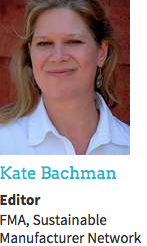 This is a big deal for our little group of Midwestern manufacturers that comprise the Sustainable Manufacturer Network Advisory Board, and we are thrilled!
Read Kate's article on GreenBiz, share with your social networks, and register to attend the Conference NOW.
Conference agenda to be updated ASAP; other good stuff awaits.