Easily digest our whole website with these bite-sized servings. The tasting menu includes:
→Company history, 1962-present
→Package design/engineering, tooling, and thermoforming capabilities
→ISO 9001:2015 certified QMS with ISO Class 8 certified cleanroom
→Facility overview and process flow
The menu is available for download here. *Vegan and Gluten-free substitutions available.
Dordan family history
---
Dordan Manufacturing was incorporated in 1962 in Chicago, IL., by Vivian and Edwin Slavin. Our current CEO & President, Daniel Slavin, is the second-generation owner, who took over the company in 1974. Daniel is joined by his son, Aric, General Manager; daughter, Chandler, CMO; son-in-law, Danny Haavig, QC Manager; and, grandson, Julian Slavin, QC technician.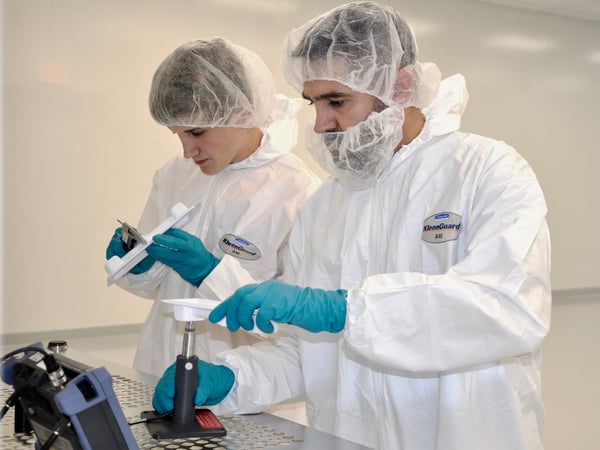 Dan's son-in-law and grandson inspect medical tray packaging in Dordan's cleanroom
Company history, 1960s-2000s
---
We began as a contract packager, which also manufactured skin packaging and small volume, single-sheet vacuum forming. We transitioned to high-volume plastic thermoforming in the late 1960s with the introduction of CAM/CNC produced tooling and early utilization of microprocessor-based thermoformers. In the early 1990s we moved from Chicago to Woodstock, IL, expanding into a 50K sq.-ft. facility to accommodate growing business. To this day, all services and capabilities are housed within this single facility. The late 1990s were met with rapid investment in equipment, technologies, softwares, and talent--with an emphasis on streamlining thermoform engineering, tooling, and manufacturing operations.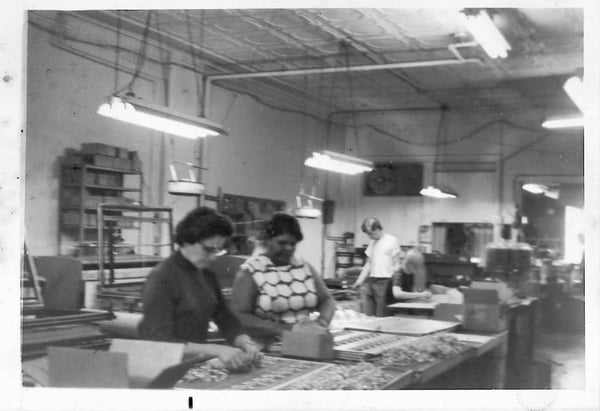 Dordan, circa 1974; Daniel Slavin shown in white tee-shirt.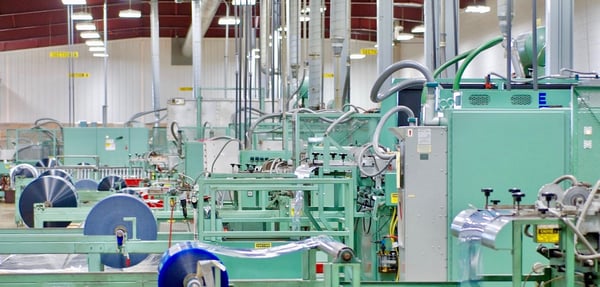 Dordan Manufacturing, Woodstock, IL
History cont., 2000s to present
---
Dordan continued to integrate its thermoform design and tooling capabilities, implementing Solid Model NX engineering and NX CAM/CNC machined aluminum tooling. We achieved ISO 9001:2008 certification in 2013 for the design, manufacture, and distribution of custom thermoformed products and packaging; then, ISO 9001:2015 certification in 2017. In 2019, we completed construction of our ISO Class 8 cleanroom for manufacturing medical packaging.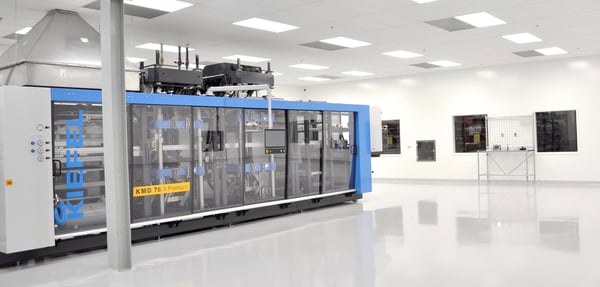 Dordan's ISO Class 8 cleanroom for manufacturing medical packaging
Main activities
---
→Custom thermoform design/engineering/prototyping

→Tooling development/machining/assembly

→In line thin gauge plastics thermoforming of clamshells, blisters, insert trays, and dunnage trays for product shipping and assembly.

→ISO Class 8 certified cleanroom for manufacturing thermoformed medical packaging.

→Adherence to Quality Management System procedures and protocols, per our ISO 9001 certification, with a commitment to continuous process improvements.


→Custom software utilization for ease of conformance to KPIs (master spec, material inventory/management, scheduling, thermoforming production performance analysis, etc.).

→Vendor managed inventory and shipping orchestration, execution, and management.

Dordan's ISO certified QMS informs every process at the custom thermoforming company
Packaging Engineering
---
At the start of a new thermoforming project, management from engineering, production, and quality control review the packaging requirements to determine a risk-based strategy for mitigating potential thermoforming challenges via thermoform design. Our team reverse engineers physical products/packaging and/or manipulates imported model files within Solid Model NX. Dordan's packaging engineers create the thermoform design and generate engineering drawings for customer review and approval prior to prototyping. The engineering drawings include standard production tolerances that are later modified after the FAI (or process validation) is performed, and an updated drawing (F0) showing manufactured part specifications is provided. More package design info here.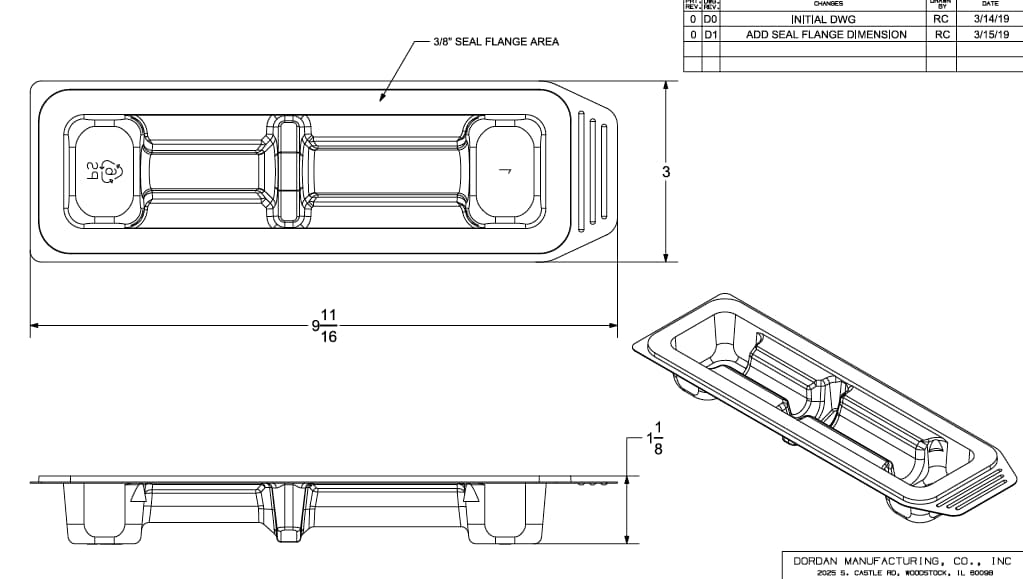 Medical syringe tray engineering drawing
Thermoform Tooling
---
All thermoform tooling and ancillary components (assist plugs, die-build ups, end-of-arm tooling, pressure boxes, locators, trim headers, etc.) are developed in house by the same team of packaging engineers who create the thermoform design. Dordan programs/machines prototype and production tooling utilizing NX CAM programming and CNC machining centers. The function of thermoformed prototypes is to demonstrate part form, fit, and function, while simultaneously proving out the tool paths for machining the production tooling. After prototype approval, the tool paths are replicated to machine the production tooling (step and repeat). All prototype and production tooling is measured and checked for quality before coming off the CNCs. More tooling info here.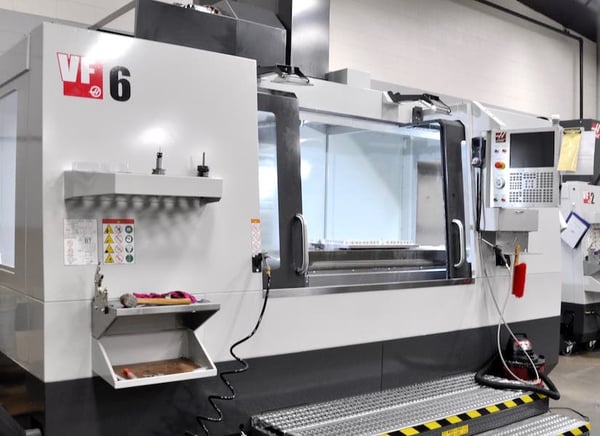 One of Dordan's CNC machines in tool and die shop
Plastics Thermoforming


---

→11 in-line, thin gauge thermoforming machines that have the capacity to convert 75MM lbs. of material annually.

→2 plastic thermoforming machines are fitted with robotics and custom end-of-arm tooling fixtures for automated stripping and stacking of thermoformed packaging.

→Small and large format thermoformers allow for production scheduling flexibility, as all tooling is interchangeable.

→Dordan can produce thermoformed parts up to 30" x 36" x 6" and between 0.010"- 0.120" thick in a variety of colors, textures, and finishes.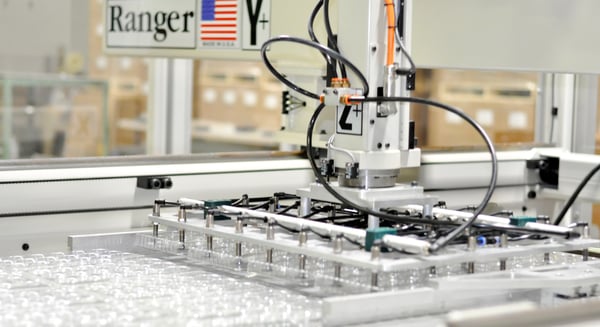 Robot strips thermoformed part at Dordan
ISO Class 8 certified cleanroom


---

Dordan has a fully enclosed and complete hardwall-contruction cleanroom within its manufacturing facility. ISO Class 8 certified, Dordan's cleanroom maintains the particulate count and cleanliness as stipulated per its ISO certification.

→Heated cutting dies with intentional tag placement for clean cutting and reduction of fiber hairs.

→Designed and built in house, stainless steel dies and build ups; form tools with syntactic foam assist plugs; and, automated strippers and stackers.

→Formed, stripped, and stacked parts index forward via conveyor belt, then move to stainless steel inspection tables.

→Verified to spec, parts are double bagged and placed in air tight pass-throughs for secondary packing.

→ Process capabilities studies to determine the CPK off which production runs are monitored.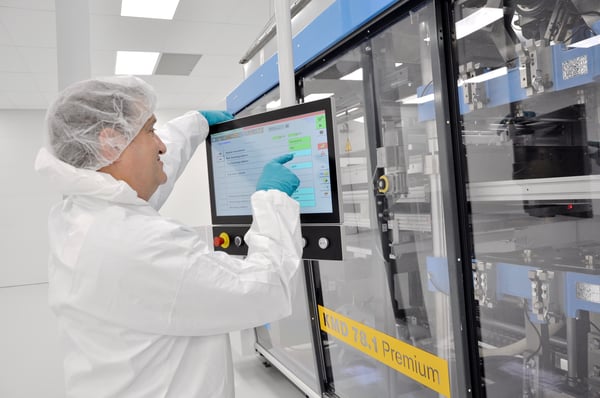 Dordan GM, Aric Slavin, programs the medical thermoforming machine in the cleanroom
Woodstock, IL, Facility


---

Dordan Manufacturing's facility includes: A thermoform design and engineering department; tool and die shop with 3 Haas CNC machining centers; 11 plastics thermoforming machines in standard production facility; 1 plastics thermoforming machine in the ISO certified cleanroom; tooling storage and maintenance; finished product inventory/VMI; Raw material inventory (approved); Shipping department; Quarantine zone.

Brother and sister, Aric and Chandler, in front of Dordan Manufacturing