Plastics thermoforming seems rather straight-forward: You take heated plastic sheet, push it into and pull it over a CNC-machined tool, and then die cut the formed part from the plastic 'web'. While these fundamentals exist for all thermoformers, where they differ is in their commitment to quality.
In its most basic form, the degree to which a thermoformer strives to control the movement of the plastic throughout the conversion process demonstrates the company's commitment to quality. Be it by making a package that challenges the limitations of thermoforming, or developing complex tooling to hold tigher-than-standard tolerances, quality thermoformers strive for continuous improvement. However, it is not just equipment, technology, and talent that assists in these efforts; but also, a robust quality management system that is the blueprint off which all plans are drawn and executed.
Dordan is a custom thermoforming company that specializes in the design and manufacturer of high quality packaging, like dunnage trays for automation and medical tray packaging. With all design, tooling, manufacturing, and cleanroom thermoforming in house, Dordan is a nimble supplier that utilizes its ISO 9001: 2015 certified QMS to support its core capabilities of package design and manufacturing excellence.
Below are technical briefs on our engineering, tooling, thermoforming, and cleanroom manufacturing capabilities. You can download these tech briefs here.
Engineering
---
Step 1: Thermoform Package Design
At the start of a thermoform packaging project, management from engineering, production, and quality control review the packaging project requirements to determine a risk-based strategy for mitigating potential thermoforming challenges via thermoform design.
Dordan utilizes Solid Model NX for the development of thermoform designs. Our team reverse engineers physical products/packaging and/or manipulates imported model files.
Dordan submits engineering drawings with standard production tolerances for customer review prior to machining prototype tooling. These tolerances are later modified after the FAI (or process validation) is performed, and an updated drawing (F0) showing manufactured part specifications is provided.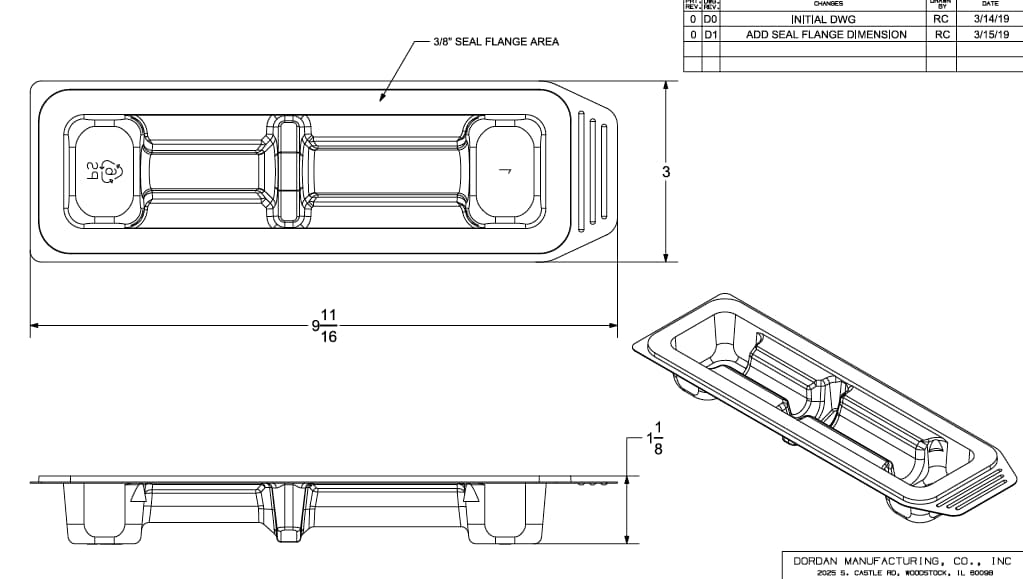 Tooling
---
Step 2: Programming and machining thermoform tooling
All thermoform tooling and ancillary components* are developed in house by the same team of packaging designers who created the design. Dordan programs/machines prototype and production tooling utilizing NX CAM/CNC machining centers.
The function of thermoformed prototypes is to demonstrate part form, fit, and function, while simultaneously proving out the tool paths for machining the production tooling. After prototype approval, the tool paths are replicated to machine the production tooling (step and repeat).
All prototype and production tooling is measured and checked for quality before coming off the CNCs. *Assist plugs, die-build ups, end-of-arm tooling, pressure boxes, locators, trim headers, etc.
Manufacturing
---
Step 3: Thermoforming
Dordan's has 11 in-line, thin gauge thermoforming machines in its standard production facility; and, additional thermoformers in the ISO Class 8 cleanroom. We have the capacity to convert 90MM lbs. of plastic material annually.
In our standard facility, two of our plastic thermoforming machines are fitted with robotics and custom end-of-arm tooling fixtures for automated stripping and stacking of thermoformed packaging. We have two-sized machines and all of the tooling is interchangable, allowing for scheduling flexibility and efficiency gains.
Dordan is always pushing the limit on what can be done in thermoforming. We are limited by the mechanical constraints of our machines, however. These include a max part size of 36" x 36" x 6" and ranging in material thickness from 0.010"- 0.120" thick.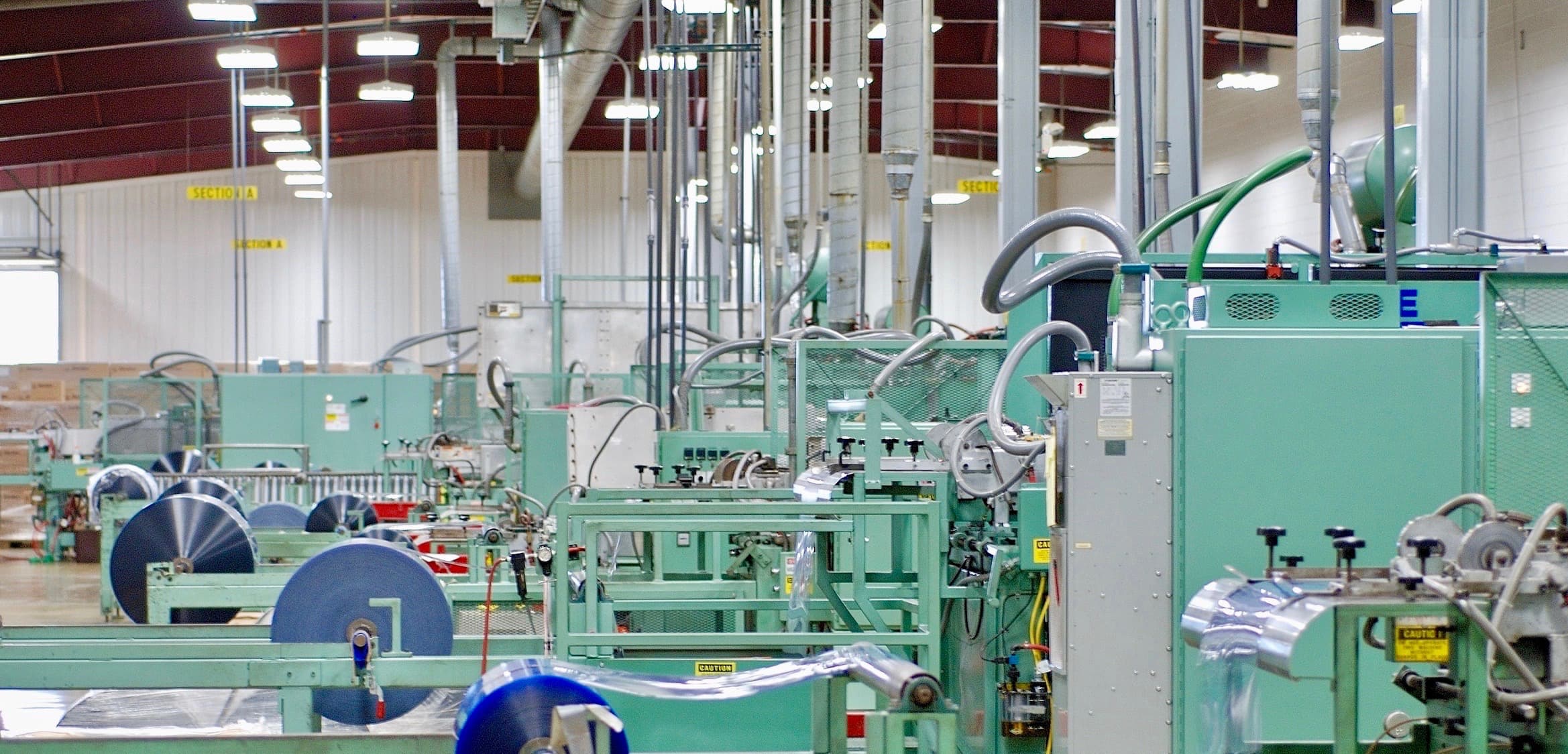 Cleanroom packaging
---
Step 4: Manufacturing high quality medical packaging
Dordan's cleanroom is ISO Class 8 certified and is used to manufacture medical packaging, like medical device trays and surgical kits.
Our cleanroom thermoforming machine uses heated cutting dies with intentional tag placement for clean cutting and reduction of fiber hairs. All form tools, dies, build ups, assist plugs, automated strippers/stackers are designed and built in house by the same team of engineers that developed the packaging concept.
After being formed, the parts are automatically stripped and stacked, moving forward on a conveyor belt and onto stainless steel inspection tables. Verified to spec, the thermoformed parts are double bagged and placed in air tight pass-throughs for secondary packing.