Woodstock, IL—March 2018—Dordan Manufacturing, a custom thermoformer of plastic packaging, is ISO 9001:2015 certified for the design, manufacture, and distribution of thermoformed products and packaging. Building on the Quality Management System of the ISO 9001:2008 Standards, which emphasize continued process improvement through monitoring, measuring, and analyzing Dordan's ability to satisfy its customers, the 2015 Standards incorporate risk-based thinking as a means to continuously improve the value of it's products and services.
Dordan Manufacturing originally achieved ISO 9001:2008 certification in 2013 in union with its 50th anniversary. Re-certified months before it's 55th anniversary, today Dordan has five years experience maintaining, and improving, it's Quality Management System. As Dordan's QMS continues to be analyzed and refined to ensure continuous process improvements per the 9001:2008 Standards, the 2015 Standards act as a refined lens through which the existing processes can be viewed, and improved.
Daniel Haavig, Dordan's Quality Manager, explains: "To conform to the updated requirements of the 2015 Standards, Dordan needed to plan and implement actions to address risk and opportunities. By addressing both the risks and opportunities that exist within every process at Dordan—be it sales, engineering, tooling, or production—a basis for increasing the effectiveness of the QMS is realized. Thus, the 2015 Standards are an avenue through which continuous improvement is strategically implemented."
While risk-based thinking has been implicit in the 2008 Standards, the 2015 Standards require each process be revised to include a risk-opportunity assessment. For instance, an inherent risk of thermoforming is producing non-conforming parts; that is, thermoformed items that don't meet the specifications required for its quality and performance i.e. snap fit, die-cut, etc. The related opportunity to this risk is routine QC inspections with an understanding of these requirements, while recognizing potential production challenges. As a custom thermoformer, each job comes with its own set of form and function requirements; therefore, each job has its own QC inspection methods, tests, or protocols to prevent the generation of defective parts and minimize the incidence of producing non-conforming parts.
Dordan President and CEO Daniel Slavin comments, "Our commitment to the ISO 9001:2015 Standards is evidence to our customers, prospects, suppliers and employees that maintaining high levels of measurable quality in our products and services is a cornerstone of Dordan's management philosophy."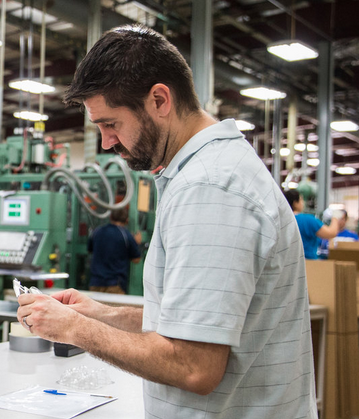 Above: Dordan's Quality Manager, Daniel Haavig, inspects a thermoformed part during routine QC-inspection
Dordan is an engineering-based designer and manufacturer of custom thermoformed packaging solutions like plastic clamshells, blisters, trays, and thermoformed components. Dordan is based in Woodstock, IL, and offers all design, tooling, and thermoforming in-house. Dordan specializes in producing high-quality thermoformed products and packaging that fulfill the expectations of its customers.
Perry Johnson Registrars, Inc. is a full service registrar that carries multiple international accreditations. This means PJR has the authority to register organizations, recognizing them for their quality management system's integrity.