Thermoformed Trays
Thermoformed trays like plastic insert trays, medical device trays, dunnage trays, and POP display trays provide retail, medical, and industrial packaging solutions. Dordan has 60-years experience designing and manufacturing custom thermoformed trays to meet various performance, presentation, and safety requirements.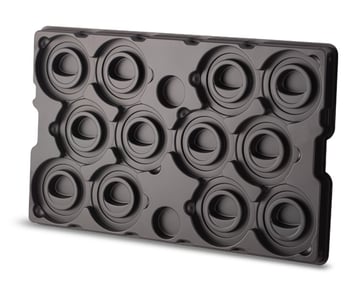 Dordan is a full-service, engineering-based designer and manufacturer of custom thermoformed plastic trays. ISO 9001:2015 certified, all tray design, tooling, and thermoforming is done in-house, allowing for the production of high-quality thermoformed trays in quick turnaround at competitive pricing. Equipped with an ISO Class 8 Cleanroom for the production of sterile and non-sterile thermoformed medical device trays, Dordan offers highly-engineered thermoformed trays that meet the performance and quality requirements of its customers.
Available in a variety of materials (FDA, medical-grade, ESD, impact-resistant, etc.), colors, and thicknesses, plastic thermoformed trays are designed specifically for perform their intended function. Dordan can manufacture thermoformed plastic trays up to 30" x 38" x 6" and ranging in material thickness from .010"-.080."
Thermoformed Tray Solutions:
Plastic Insert Trays: Organize and protect products for retail display or medical operations with plastic insert trays. Designed to fit inside a paperboard carton, clear-fold box or sleeve, set-up box, or medial kit, plastic insert trays offer functional packaging solutions.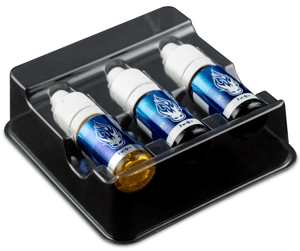 Thermoformed Medical Device Trays: Thermoformed medical device trays with Tyvek or other lidding protect and maintain the cleanliness and safety of sterile and non-sterile medical devices.
Thermoformed Dunnage Trays: Thermoformed dunnage trays provide assembly, manufacturing, and shipping efficiencies. Stackable, reusable, and designed for automation or manual handling operations.
POP Display Trays: Display your product at the point of purchase with thermoformed POP display trays from Dordan.