Hello my sustainable packaging friends!
Writing you from the polar vortex that is Chicago. Hope you are staying toasty wherever you are.
Soooooo as I alluded to in my "Results are in! How did the PET thermoform recycling pilot go?!" post, I was asked by UK-based Plastics in Packaging Magazine to write an article about the state of post consumer PET thermoform recycling. As you know, my 2010 Report (cover feature of Green Manufacturer Magazine) described why plastic clamshells were not recycled, my 2013 Report (cover feature of PIP Magazine) described how the industry collaborated to add PET thermoformed containers to the country's collection for recycling programs, THIS report describes how clamshells are actually being recycled.
My clamshell recycling initiative that began in 2009 (dang, I am getting old) had the goal of removing the barriers to PET thermoform recycling so I could sleep easy at night, knowing that the pride and joy of my family's manufacturing company is recyclable. In order to say a package is recyclable, the FTC Green Guides explain, it must be "collected for recycling in the majority i.e. 60% of American communities." Hence my 2013 Report, which explained what the industry did to make clamshells accepted for recycling in over 60% of communities in America. But the job wasn't done. Shortly after sending a "hurray, clamshell packaging is recyclable!" eblast to everyone I ever knew ever, I heard back from one of my friends who works in recycling at the municipal level; he explained that while it is a great accomplishment for the plastics industry that clamshells are now collected for recycling, it doesn't mean that they will actually be recycled. In order for a material collected for recycling to actually be recycled, someone has to buy it and convert it into a second-generation material or product. Because of the existing demand for post consumer PET bottle bales, those campaigning for recycling PET thermoforms had to demonstrate to reclaimers that they could be sorted from other contaminants so as to not compromise the value of the bottle bales. Just how PET thermoforms would be sorted from other "look-a-likes" remained to be established.
And enter my new report, "Postconsumer PET Thermoformed Containers: Recyclable vs. Recycled" wherein I discuss how 3 different county's/recyclers actually collected, sorted, and sold postconsumer PET thermoforms. Some pretty incredible stuff.
I have pinky promised the publisher at Plastics in Packaging Magazine that I wouldn't publish my Report to my blog until the digital edition is released, January 22nd. The Magazine edition goes to print February 1st, after which, versions of the Report will be featured in a variety of domestic plastics periodicals. I am so excited that I get to tell this truly remarkable story of how a material can go from largely landfilled to collected for recycling to actually recycled in America in less than 5 years through industry proactivity and collaboration. I hope that the story inspires other manufacturers to work together and with recyclers and municipalities to remove the barriers to their products' recyclability.
And here is a dorky picture of me proudly displaying post consumer RPET thermoforms containers manufactured at Dordan.
Stay tuned for the Report, coming to you Jan. 22nd.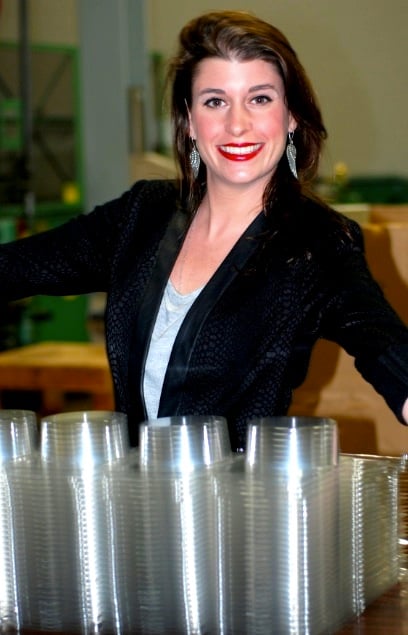 I heart RPET clamshells!
Learn about Dordan's sustainable thermoformed packaging.