June 2018—Woodstock, IL—Dordan Manufacturing, a custom thermoformer of plastic clamshells, blisters, trays, and components, unveils a new website Monday that offers simplicity, corporate transparency, and ease-of-use. Elegantly functional, the website is an extension of Dordan's brand, which differentiates itself by staying true to its core capabilities of thermoform design and manufacturing excellence.
Putting the user's experience first, the website—designed by Woodstock-based web designer, Turnkey Digital—is easy to navigate and information-rich. Simple product photos are paired alongside concise descriptions and product features, educating the visitor about Dordan's products and services, while at the same time positioning the custom thermoformer as a high-quality supplier of smart packaging solutions.
The website features a "naked" thermoform gallery: Here, some of Dordan's non-retail facing thermoforms, like work-in-process trays or thermoformed components—are showcased; these demonstrate the highly-engineered design intricacies and superb thermoforming that have defined Dordan's custom thermoformed solutions for over 55-years.
Dordan's Marketing Manager, Chandler Slavin, explains: "While Dordan designs and manufacturers thermoformed packaging solutions for retail, a portion of our business targets non-retail facing applications, like dunnage trays and components designed for automation and/or production/assembly efficiencies. We want to showcase these thermoformed product and packaging solutions to increase the awareness of just how versatile, and creative, thermoforming is; and, just how much opportunity for thermoforming exists outside the traditional, retail packaging space."
The website includes a video showing Dordan's thermoformers and robotics, illustrating the corporation's commitment to continued investment in its operations: "While thermoforming is a mature industry," Slavin explains, "the continued and sustained investment in our thermoforming, machining, and design equipment and softwares, coupled with the integration of robotics, has positioned Dordan as a best-in-class custom thermoformer."
New content available for download on the website includes, "Thermoform Pricing Structure" and "6-Steps for Designing for Thermoforming"; both provide significant insight into Dordan's business model. President & CEO Daniel Slavin, explains: "I hate going to a website and not being able to find what I am looking for. For our new website, it was imperative that whoever the visitor—be it a procurement professional or packaging engineer—be able to find what they are looking for quickly and easily. I want to make it simple for buyers to find Dordan online and qualify us as a potential supplier just from visiting our website."
Dordan's corporate logo has had a makeover, reverting back to the original design after 10-years of continued modifications geared at commemorating the corporation's anniversaries.
"Dordan's reputation as a leader in the plastics thermoforming industry is the result of over 55-years of hard-work and dedication to thermoforming excellence," Daniel explains. We don't need to 'rebrand,' 'reinvent' ourselves. We need to take pride in where we came from because that's what makes us who we are today." In using the original logo, Dordan hopes to preserve the founding-DNA of design and thermoforming excellence for generations to come.
"Thermoforming really is a blend of art and engineering," Chandler concludes. "We hope that our new website does the process justice."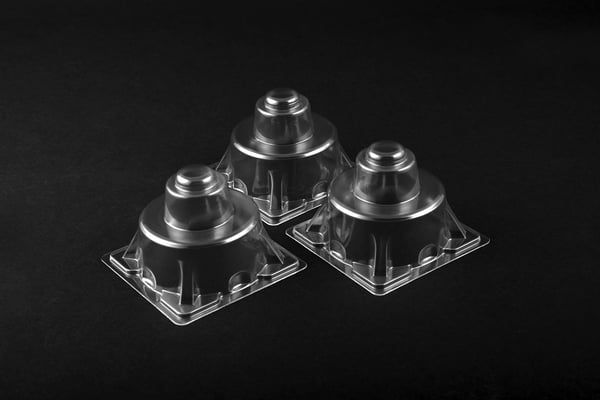 Above: "Naked" thermoform gallery photo
Dordan Manufacturing Co. Inc. is a privately-held, family-owned and operated custom thermoformer of plastic clamshells, blisters, trays, and components. ISO 9001:2015 certified for the design, manufacture, and distribution of custom thermoformed products and packaging, Dordan offers full thermoform design, tooling, and thermoforming in-house, allowing for quick-turn times of high-quality parts and packaging.