Dordan Manufacturing has been nominated for the McHenry County Economic Development Corporation's (MCEDC) Business Champion Awards!
The MCEDC is a private/public partnership that works to support and develop the economic vitality of McHenry County, which includes 10 cities located in the greater Northern Illinois region.
Dordan was nominated for the award by anonymous members of the local business community and has since been reviewed by an independent board of business and educational professionals. The Business Champion Award recipient will be announced at MCEDC's Annual Gala on November 1st.
When asked what makes Dordan different during the nominee screening process, President & CEO Daniel Slavin comments:
"We are a third generation family owned and privately held company. Since 1962, Dordan has made continuous investments to allow for sustainable, long-term growth. This is contrary to the plastics industry, which has witnessed market consolidation fueled by private equity, favoring short-term results over long-term growth. As a privately held company, Dordan maintains the corporate culture, values, and priorities of its founding; and, is able to focus 100% on its core capabilities of package design and custom thermoforming. This is in opposition to those entities resulting from M&As that re-prioritize and modify products and services to gain more market share, compromising quality and reputation."
On October 19th, Dordan celebrated its 60th anniversary, making 2022 a special year for the custom thermoforming company. To meet the growing demands of its customer base, Dordan hired another packaging engineer and quality control technician to support the company's engineering and quality control departments.
Looking ahead to 2023, Daniel explains that the company has committed to achieving ISO 13485 certification for medical product and component manufacturing. As an existing supplier of medical tray packaging with an ISO class 8 cleanroom, Dordan's dedication to implementing this new quality management system reflects its adherence to long term and sustainable growth. The certification will allow for increased market penetration, further positioning the thermoformer as a premier medical packaging manufacturer.
Dordan is grateful for the opportunity to be considered as this year's Business Champion and eagerly awaits the award ceremony. Pictures to follow!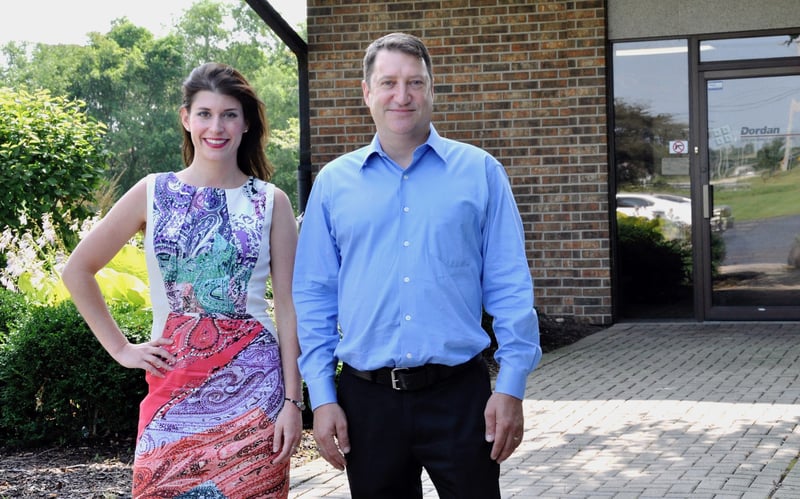 Siblings and company principals, Chandler and Aric, in front of Dordan Manufacturing