Dordan is based in Woodstock, IL-- the setting for Bill Murray's Groundhog Day; a cultural oasis for artists, musicians, and entrepreneurs alike, 50-miles outside Chicago.
The Woodstock Independent is the community newspaper, which just published an article on Dordan's move into medical packaging. Titled "Entering the Next Industrial Age," the article ties together Dordan's recent investments in cleanroom thermoforming and Industry 4.0 technologies to further extend its core capabilities of custom design and manufacturing excellence to the medical device industry.
Dordan has 60-years experience custom thermoforming; we are family-owned and operated company, with third-generation management passionately dedicated to the continued evolution of the firm. A large player in the consumer electronics and retail packaging through the early 2000s, the continued commoditization has created opportunity to further focus on niche customers that demand extensive quality control, quick turnaround, and highly engineered thermoformed packaging. Dordan is a cutting edge thermoformer, keen on developing highly-specialized performance packaging that challenges traditional design and thermoforming capabilities.
Woodstock Independent Reporter Nathan Willcockson writes,
Woodstock is a town with a reputation for "boutique" shops, with a downtown well-known for small, specialty stores. Unbeknownst to most residents, though, there's another shop with a similar reputation and business strategy well outside the Square.
Dordan Manufacturing isn't the place you might go for a relaxing afternoon, unless heavy machinery, whirring robots, and hot plastic is your idea of R&R. But according to company principal Chandler Slavin, a third-generation owner of a family business that's been operating since 1962, Dordan has more in common with Woodstock's downtown than meets the eye.
"Like attracts like," Slavin said. "We've always been true to who we are, we haven't tried to be this do-all, huge company. … By being authentic, we feel that we're attracting companies that align with those values."
Dordan made headlines in both trade publications and in the world of "Sneakerheads" this February as the manufacturer of Nike's "Green Lobster" shoebox, an expertly designed luxury shoe container that helped sell Green Lobster Dunks at Concept International boutiques in New York, Boston, and Dubai.
Now, Dordan is preparing to unveil the next big move: an ISO Class 8 cleanroom for the manufacture of medical device packaging.
"Medical device manufacturers share a lot of our values; the majority of medical companies are small and medium-sized, like us" Slavin said. "If they're introducing a product to market, that's like their baby, it's near and dear to their heart. … They care, they aren't [commissioning a package] to shave off a few pennies; it's a medium to keep the product safe. It makes us take more of a commitment to continue the legacy we've developed to do good work by our customers, to be honest, and do the best that we can."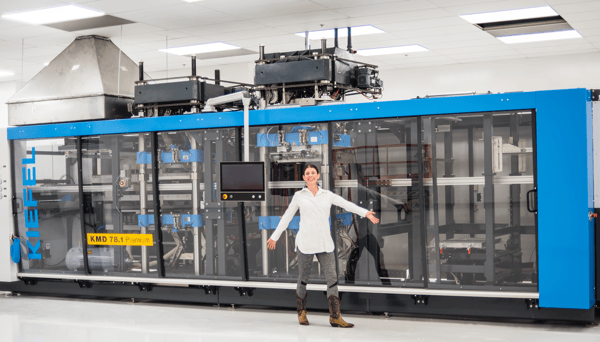 Above: Your's truly in front of Dordan's 2019 Kiefel Speedformer in Dordan's nearly-complete ISO Class 8 Cleanroom for the production of medical device packaging.