For many small and medium sized manufacturers, the principles of the Fourth Industrial Revolution are abstract. Terms like interconnectivity, IoTT, customization, flexible automation, AI/machine learning, and Big Data are routinely referenced in the corresponding rhetoric. Yet, many don't understand how these technologies can be applied to existing operations and systems to manifest the prescribed benefits of the Fourth Industrial Revolution. While improving quality, increasing productivity, and reducing waste has always driven manufacturers' business decisions, when viewed through the principals of the Fourth Industrial Revolution, a more elegant approach is provided. Smart factories don't have to be fully automated, fancy factories of the future; instead, an evolution of existing equipment and processes married with thoughtful investment in new technologies and talent.
Dordan Manufacturing, a custom thermoformer of consumer, medical, automotive, and industrial packaging solutions, integrates smart factory technologies into its 60-years of experience to provide continuous process improvements. With investments in automation, connectivity, data, and talent, Dordan provides better, faster, and more cost effective thermoformed packaging that meet its customer's needs. Through a description of this integration of Industry 4.0 principals, insight is provided into how manufacturers have the opportunity to optimize operations through investment in existing assets coupled with new technologies.
Part 1: Connectivity
Dordan is a full-service custom thermoformer, offering in-house packaging design, tooling, production, and medical thermoforming. This integration results in the production of highly engineered, high-quality thermoformed packaging and product solutions in quick turnaround at competitive pricing. On the vehicle of Factory 4.0 mentality, Dordan has further enhanced these process integrations to improve overall quality, productivity, and agility.
Engineering:
Dordan utilizes Solid Modeling NX for the development of its thermoform designs. Through shared digital meeting platforms, Dordan's engineers work directly with its clients' engineers within NX on the development of complex packaging platforms for consumer, medical, automotive, and industrial packaging applications.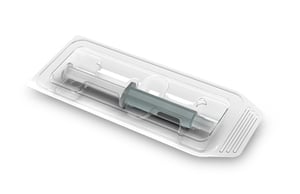 Dordan's packaging engineers simultaneously collaborate with its operations technology group to analyze proposed designs in order to mitigate potential production risks while ensuring that the packaging concept has been optimized for down-stream packaging systems efficiencies. Dordan offers its solid model designs to its customers to aid in the development of secondary packaging, assembly, and sealing operations. This design transparency and holistic approach to thermoform design facilitates increased productivity and customer satisfaction.
Tooling:
The same team of packaging engineers develops the NX CAM/CNC produced prototype and production thermoform tooling. This connectivity between the design and tooling development process results in more intelligent quality control as there are no software and machining translation errors.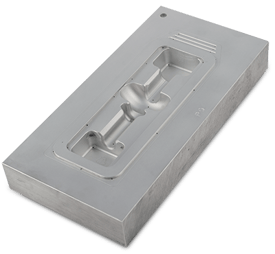 Dordan's prototype tools are a one-up machined aluminum block of the multiple-up production tooling (right). Upon prototype approval, the proved out tool paths are replicated (step and repeat) such that the production tooling is pre-qualified. Should there be a revision, the modification is replicated automatically across each cavity, reducing packaging development time. Dordan has three tooling formats for three machining formats: small, large, and medical. Therefore, tooling can be swapped between shared machining formats, allowing for scheduling flexibility. This connectivity between design, tooling, and thermoforming processes enhances Dordan's overall agility.
Operations:
A common misconception among manufacturers about the Fourth Industrial Revolution is that entire production lines need to be replaced. This, fortunately, is not the case. Dordan has been able to connect and optimize existing equipment and complement it with new models. For instance, Dordan has automated the stripping and stacking of its formed parts with the procurement of robotics (video below); instead of replacing the operators, Dordan provides advanced training such that machines and people are working together to deliver better products faster, while reducing waste and improving overall quality.
With the goal of increasing asset utilization, existing thermoforming lines are routinely scheduled for inspection and optimization. Here, machines are stripped and rebuilt with new components; and, reprogrammed with updated software.
Part 2: Data
The performance of each process at Dordan is measured, documented, and analyzed per Dordan's ISO 9001:2015 certified quality management system. This data is used to inform managerial decisions such that we offer continuous process improvements. Dordan's key performance indicators include, but are not limited to: engineering to production turnaround, part quality, on-time delivery, and customer satisfaction.
In order to ascertain the relevant data that informs our KPIs, real-time collection of production data is recorded and analyzed via custom software; the outputs of which, reviewed in post-production meetings that includes management from each department. Production efficiencies and areas for improvement are isolated, and a benchmark is established off which future run performance is measured. Dordan's real-time scheduling and inventory management portal provides complete transparency into its operations for customers, who are able to monitor the status of their jobs from design through production and generate strategic releases to optimize shipping. Material ordering data is collected and analyzed and suppliers are scored based on their performance. This information is crucial to the development of value-added supplier relationships.
Part 3: Talent
While it's customary for manufacturers to demonstrate their ability to produce quality products via facts and figures, Industry 4.0 manufacturers take it a step-further to demonstrate the value of the people behind these quality systems. Through culture building, continuing education, and cross-functional teamwork, Dordan's employees exercise a level of aptitude, commitment, and passion that reflects the company's DNA.
As a family-owned and operated thermoformer that has grown from a modest storefront in Chicago (bottom left) to a state-of-the-art design and manufacturing house (bottom right), Dordan is proud of the products and services it provides and strives to meet its customers expectations for quality, performance, and cost. Yet, these products and services aren't solely the result of systems and processes; they are also made manifest through the hard work of talented people.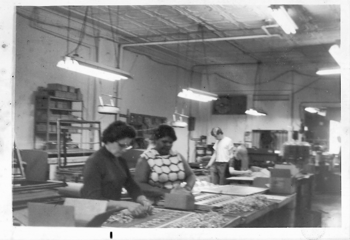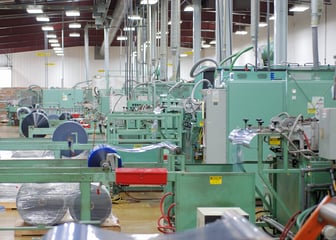 With the democratization of technologies catalyzed by the Fourth Industrial Revolution comes further employee empowerment and opportunities for bottom-up innovations. Dordan encourages employee engagement at all levels of the organization and believes that when machines and people work together to achieve the same goal of increasing productivity and reducing waste, the overall quality of its products and services improves.
Through investment in optimizing existing equipment, processes, and talent, Dordan is embracing the principles of the Fourth Industrial Revolution to offer better, faster, and more cost effective thermoformed packaging. As companies reshore their manufacturing operations, smart factories that offer sustainable partnerships based on shared values is the wave of the future; Dordan is happy to be on board and invites others along for the ride.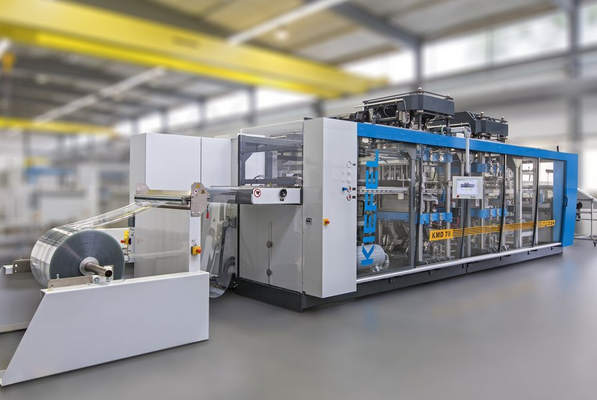 Dordan's 2019 Kiefel Speedformer for its ISO Class 8 Cleanroom
Dordan's thermoformed packaging solutions:
Plastic clamshells, blisters, insert trays, POP display trays, and bifolds for consumer products and retail applications;
thermoformed dunnage trays for automotive and industrial manufacturing, assembly, and distribution efficiencies;
sterile and non-sterile medical device packaging;
and, thermoformed components.