Minneapolis, MN—October 23, 2019—Custom thermoforming company, Dordan Manufacturing, to debut its ISO Class 8 Cleanroom for producing medical packaging in an exclusive video at MD&M, booth #2417. MD&M Minneapolis is the largest med tech event in the Midwest, bringing together experts across the supply chain for a two-day, three-track educational workshop and expo.
Dordan's booth at MD&M to display never-before seen video footage of the new cleanroom. Filmed by a media specialist at Shaw Media—an Illinois-based publishing house—the video invites show attendees inside Dordan's cleanroom to witness the scale and sophistication of this new production space.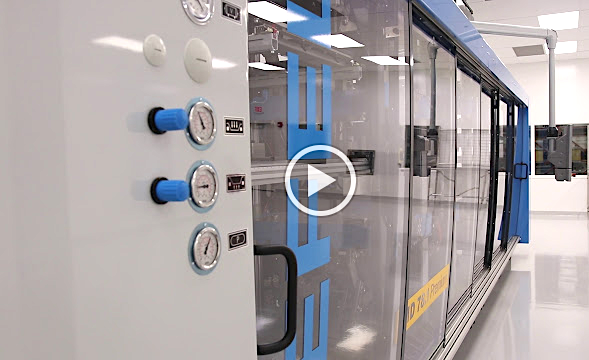 Above: Teaser screenshot of video to be premiered @MD&M

Dordan's fully enclosed and complete hard wall construction cleanroom houses a new Kiefel Speedformer with best-in-class forming, cutting and stripping stations. The 3,200 square-foot room contains a gowning area and a material entry station, where the cascading airflow design continuously circulates air down and out of the production space. The cleanroom is designed for manufacturing medical device packaging trays, surgical kits and containers, medical blisters and clamshells, and work-in-process trays for medical device and component assembly.
Dordan's Marketing Manager, Chandler Slavin, explains, "Dordan's cleanroom is a carefully curated space that demonstrates our commitment to providing safe and effective packaging for sterile and non-sterile medical devices, instruments, and components. We hope that the video premiered at MD&M Minneapolis conveys the diligence we took with crafting an environment that we felt worthy of manufacturing medical packaging."
Dordan has been designing and manufacturing custom thermoformed packaging solutions since 1962. It's move into medical with the construction of an onsite cleanroom is a natural progression for the thermoformer, which provides in house package design and engineering, prototype and production tooling, and plastics thermoforming.
Visit Dordan at MD&M, booth #2417, for a 360-degree, panoramic view inside the custom thermoformer's cleanroom.