Dordan's Sustainable Thermoformed Packaging
Dordan offers thermoformed plastic packaging made from recycled plastic. Made in America, Dordan's thermoformed plastic packaging is recyclable post-consumer. By sourcing recycled plastic packaging that is recyclable, you can close the loop on plastic packaging.
Plastic packaging is an efficient use of resources. In a recent report by natural capital valuation firm TruCost, it was found that if plastic packaging were replaced with alternative materials, it would could come at a net environmental cost by a function of four. In other words, it would take four times the amount of alternative material to perform the same function as plastic packaging. Check out Dordan's summary of TruCost's analysis in this Packaging Digest article, "Plastic Packaging Scores an Environmental Win."
Dordan Sustainable Packaging Options:
Dordan offers 100% certified post-consumer thermoformed plastic packaging and different ratios of certified post-consumer to post-industrial plastic packaging. This versatility of recycled content source and ratio allows Dordan to provide its clients with recycled plastic packaging while maintaining cost and performance requirements.

Dordan offers bio-based/biodegradable/compostable thermoformed packaging solutions. For an update on the market realities of sustainable plastics, download our report, "Green Plastics for Thermoforming."

Dordan offers tools for assessing the sustainability of packaging solutions. Download our Report "How to Assess Sustainable Packaging," for an overview.

Dordan offers a 4-Step Design for Sustainability Process for those looking to lower the cost and environmental footprint of their packaging; click here to download the whitepaper.

Dordan offers complimentary sustainable packaging consultation services with our Sustainability Coordinator, Chandler Slavin.
Chandler Slavin Bio:
Chandler Slavin contributed to the industry-initiated dialogue that resulted in the inclusion of PET/RPET thermoformed packaging in the post-consumer recycling infrastructure from 2009-2015. Learn about Slavin's efforts to recycle thermoformed packaging here. Slavin has served as Dordan's primary contact to the Sustainable Packaging Coalition, the Walmart Sustainable Value Network, and Association of Visual Packaging Manufacturers, and sat on the advisory Board of the Sustainable Manufacturers Network. Slavin is a contributing writer to Packaging Digest Magazine on sustainable packaging, and serves as a Packaging Digest reporter at Pira International's Annual SUSTPACK conferences. A writer and speaker on sustainable packaging, Slavin maintains Dordan's corporate blog and produces all of Dordan's sustainable packaging content; check out her research here.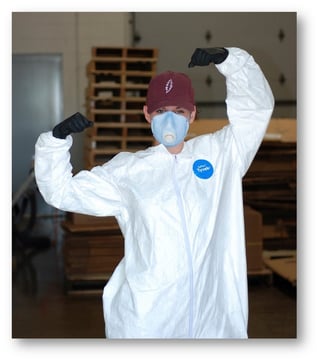 Dordan's Slavin before performing an on-site waste audit