The function of medical packaging is to maintain the safety and efficacy of medical devices and can come in many forms. The two most popular are thermoformed trays with Tyvek lidding and Tyvek pouches. Thermoformed packaging for medical devices offers enhanced product protection, security, organization; and, facilitates a positive end-user opening experience when compared to pouches.
Dordan is a designer and manufacturer of medical packaging like medical device trays, blisters, clamshells, and handling trays. Below are photos of our work with details on design features, application, and material type.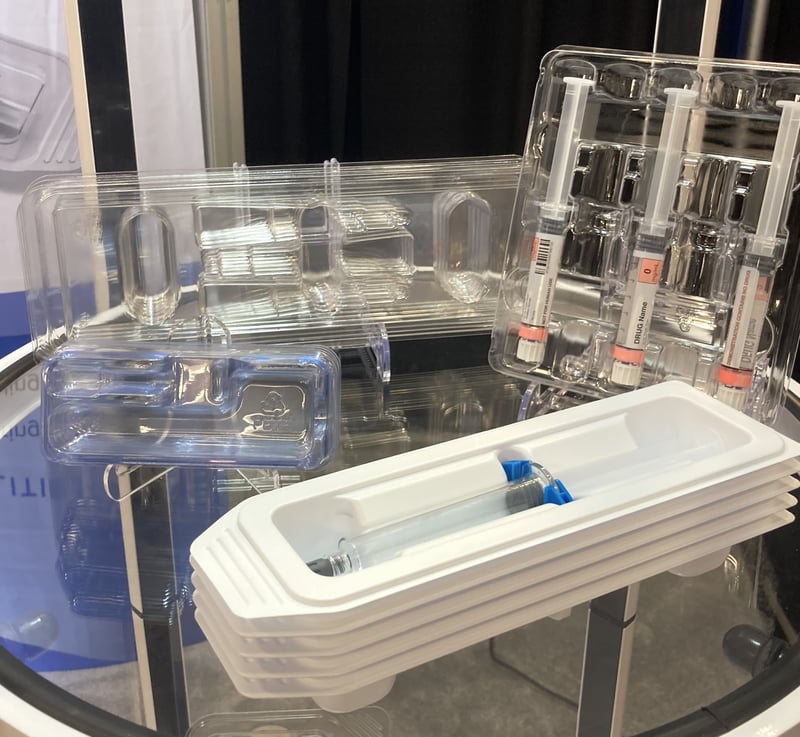 The white tray is a syringe tray with a raised seal flange around the perimeter of the cavity for Tyvek lid sealing. The material is 0.030" FDA white HIPS. Because HIPS contains more rubber than PETG (most common plastic used in medical packaging) there is a higher potential for fiber hairs, which are small, wispy pieces of plastic that result from the die cutting process and can be seen around the edge of the tray. Fiber hairs can be addressed with secondary processing operations.
The small, blue-tint tray organizes small, consumer-facing healthcare components inside a carton. The material is .025 blue tint medical grade PETG. This is a popular material type for medical tray packaging because the blue-tint makes it possible to visually identify voids in the white Tyvek seal.
The tray on the back right is a multi-syringe thermoformed tray with finger access and carefully engineered undercuts. Undercuts keep the syringes secure, while allowing for ease of product removal by the healthcare practitioner.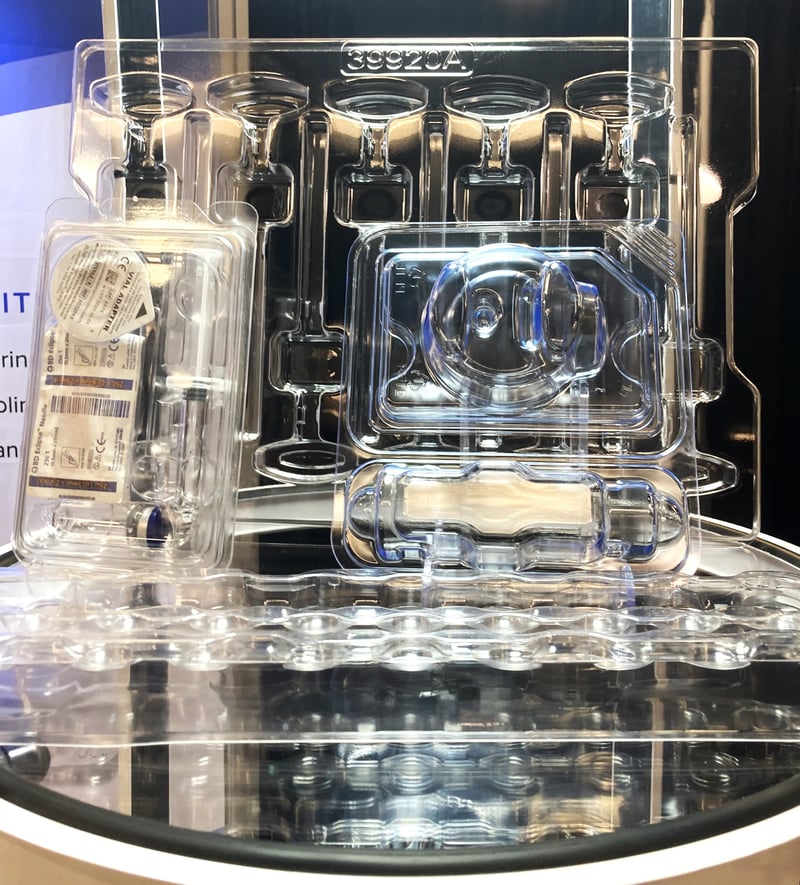 A thermoformed dunnage tray for medical component assembly rests against the back of the shelf. It has hand access cut-outs on each side of the tray for ease of manual handling. Handling trays for automation require locating features so the equipment can identify the the tray and product cavities for pick-and-place and other automatic assembly operations.
The two packages laid against the dunnage tray are clamshells. Clamshells use hinges and platform snaps to securely protect and organize medical products when closed. Medical clamshells offer quick kitting and don't require investment in a heat sealer or lidding, as is the case with medical tray packaging. Sometimes, these clamshells are placed inside pouches and then sterilized.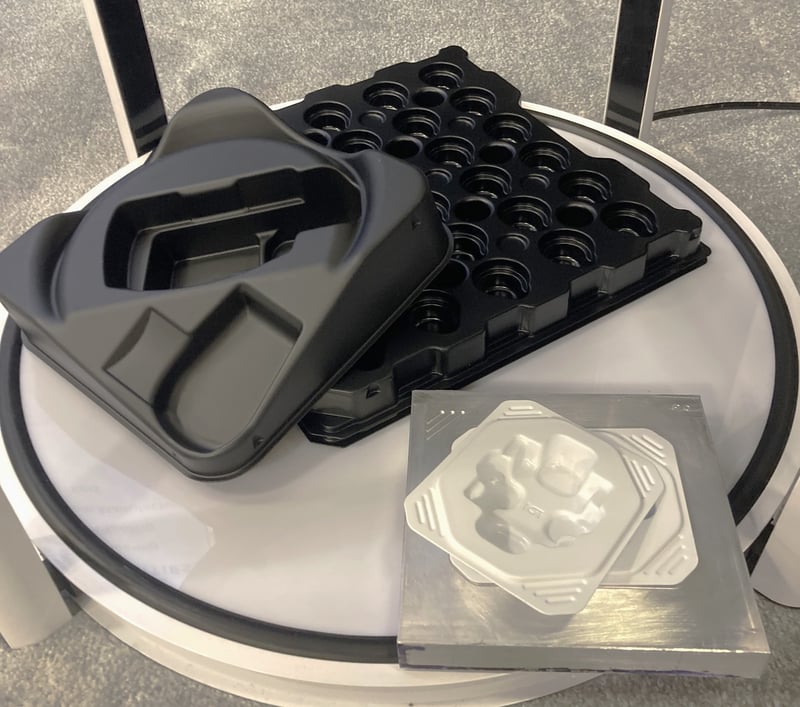 The black tray at the back of the shelf is a thermoformed dunnage tray that shows stack and rotate features on its side wall. Stack and rotate means the handling tray is designed to allow for clearance between the product and tray when loaded, rotated 180 degrees, and stacked. The material is FDA black HIPS.
The silver block on the right is an aluminum prototype tool. White FDA HIPS trays sit on top to show how thermoform prototypes are produced.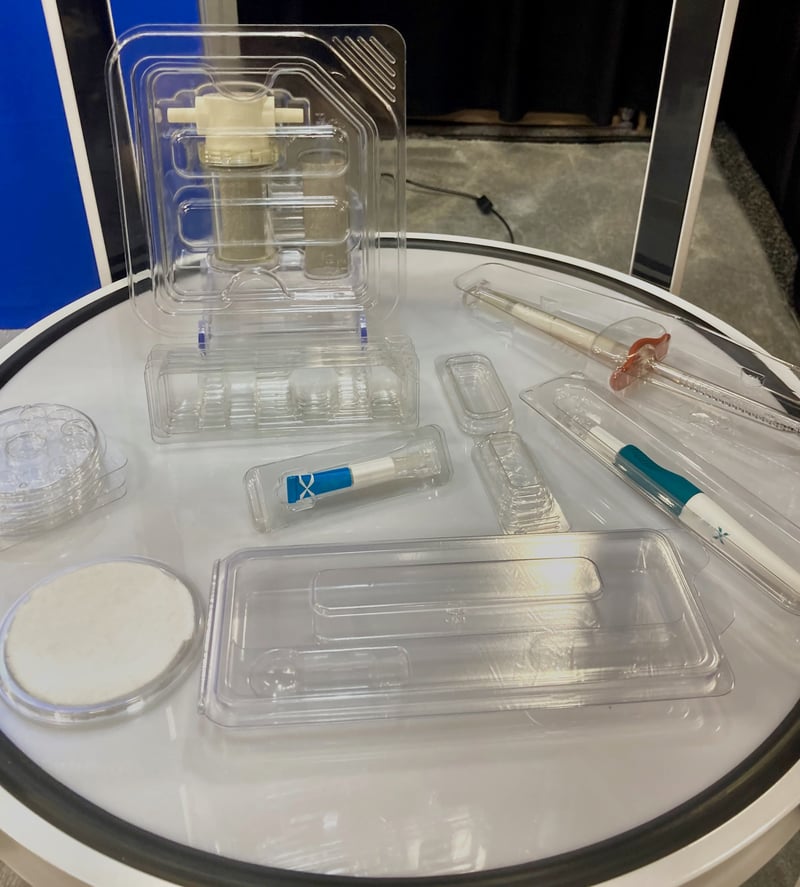 A collection of medical grade PETG tray, blister, and clamshell packaging by Dordan Manufacturing at MD&M.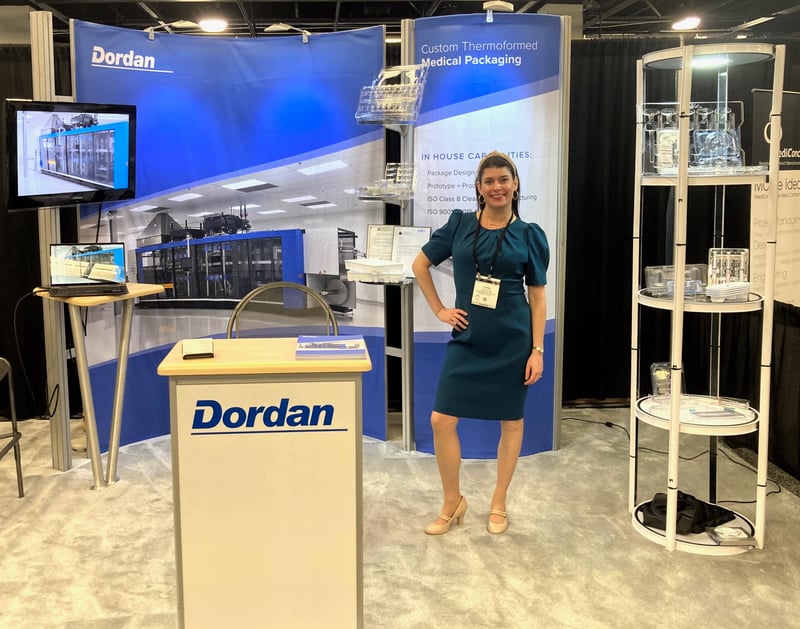 Thank you for your interest in thermoformed medical packaging. For more information on our medical packaging capabilities, download our profile via the button below.