Dordan Manufacturing History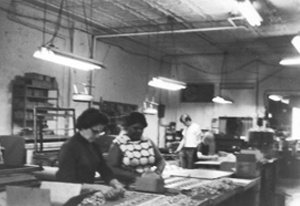 Dordan Manufacturing was started by Edwin and Vivian Slavin in 1961 and incorporated in 1962. Beginning as a contract packager that also manufactured skin packaging and small volume single-sheet vacuum forming, Dordan transitioned into plastic thermoforming in the late 1960's. In the early 1970's Edwin's son Daniel came into the business, taking over for his father in 1974.
Once Edwin retired in the late 1970's, Daniel began moving the company in a more progressive direction, which took us into the introduction of CAM/ CNC produced tooling, early utilization of microprocessor based thermoformers and a commitment to outstanding quality. In the early 1990's Dordan left its home on Elston Avenue in Chicago for greener pastures, moving about 50 miles northwest to Woodstock, Illinois.
Dordan expanded its Woodstock facility to 50,000 square feet to meet the growing demand of its widening customer base and continues to work with various end-markets on the design and manufacture of custom thermoformed packaging solutions.
In April 2013, in conjuncture with its 50th anniversary, Dordan achieved ISO 9001:2008 certification for the design, manufacture and distribution of thermoformed packaging and products. Dordan looks forward to continued process improvements and providing customers with high-quality thermoformed product and packaging solutions that meets their expectations.
In March 2015, Dordan was re-accredited with ISO 9001:2008 certification, demonstrating Dordan's continued commitment to thermoform design and manufacturing quality.
In February 2017, Dordan attained certification for ISO 9001:2015.
Dordan operates today a full-service, engineering-based designer and manufacturer of high-quality thermoformed products and packaging like plastic clamshells, blisters, trays, and components.