Anaheim, CA, February 7-9th—Dordan Manufacturing, a medical packaging designer and manufacturer, to educate MD&M West attendees on what to know when developing thermoformed medical packaging in an interactive display of over 30 new medical packaging designs, booth #335.
Dordan is a 60-years-old thermoforming company that committed to manufacturing packaging for sterile medical products and devices in 2018 with the certification of its ISO Class 8 cleanroom. Since this and while weathering COVID, Dordan was able to develop dozens of new thermoformed medical packaging solutions for an array of medical device OEM's and their supply chain partners.
The medical packaging types to be on display at Dordan's booth #335 include: Medical device trays for heat sealing; medical blisters and automation considerations; surgical and procedural kits; and, sub-component medical assembly trays for automated and manual handling operations.
Show attendees are encouraged to interact with Dordan's packaging and booth staff to learn about medical packaging materials and thicknesses, critical design features, tooling and manufacturing capabilities, and quality control requirements.
Dordan President & CEO, Daniel Slavin, comments:
"We are excited to display our new medical packaging at MD&M West and hope that show attendees will take advantage of our 60 years of thermoforming experience to gain insight into how to develop thermoformed medical packaging."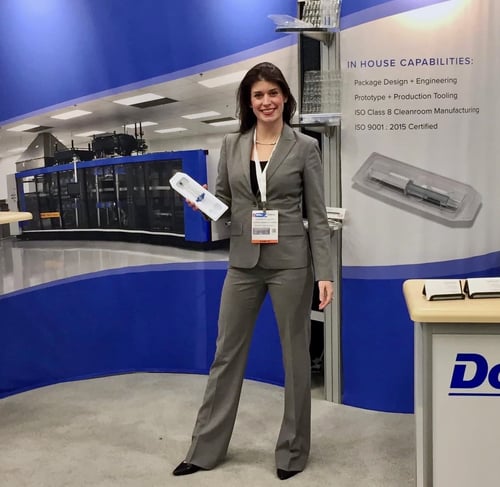 Dordan's CMO Chandler Slavin-Bond displays a medical device tray at Dordan's booth at MD&M in 2019.
###
Dordan Manufacturing is a full service custom thermoformer of medical packaging with in house package design and engineering, tooling, plastics thermoforming, and cleanroom manufacturing of medical packaging. Dordan is ISO 9001:2015 Certified with Cleanrooms meeting ISO 14644 Air Cleanliness Standards.
Medical Design and Manufacturing West is a conference and expo held in Anaheim, CA, February 7-9, 2023. It works to bring together decision makers across the medical supply chain to foster collaboration and innovation.