Thermoformed Trays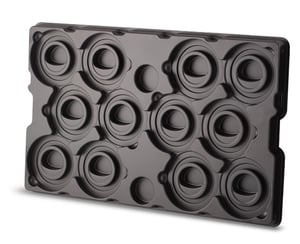 Thermoformed trays like plastic insert trays, dunnage or work-in-process trays, and point-of-purchase display trays provide retail packaging and OEM production solutions. Dordan has 55-years experience designing and manufacturing custom thermoformed trays like plastic insert trays, dunnage trays, and POP display trays.
Dordan is a full-service, engineering-based designer and manufacturer of custom thermoformed plastic trays. All tray design, tooling, and thermoforming is done in-house, allowing for the production of high-quality thermoformed trays in quick turn-times at competitive pricing.
Available in a variety of materials, colors, thicknesses, and sizes, plastic thermoform trays are designed specifically for their function. Dordan offers electrostatic discharge or dissipative materials (ESD) and impact-resistant thermoformed trays. Dordan can manufacture plastic thermoformed plastic trays up to 30 x 38 x 5.5" and ranging in material thickness from .010"-.080."
From product protection during manufacturing, assembly or distribution, to organizing multiple SKUs within one retail package, thermoformed trays are efficient tools for assembling, protecting, and selling products.
Thermoformed Tray Solutions:
Plastic Insert Trays: Organize multiple SKUs within one retail package or display a product within clear-fold or paperboard cartons with plastic insert trays from Dordan Manufacturing.
Thermoformed Dunnage Trays: Dunnage trays facilitate manufacturing, assembly, and/or distribution efficiencies for OEMs and their supply chain partners.
Thermoformed POP Display Trays: Effectively and conveniently sell your product at the retail with thermoformed POP trays from Dordan Manufacturing.